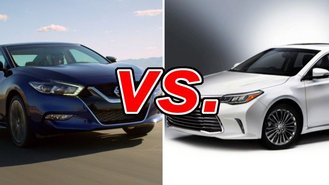 In today's automotive market, the Nissan Maxima and Toyota Avalon compete for much more similar shoppers than in previous decades. The 1990s witnessed ho-hum Avalons that delivered proven Toyota reliability and little else, while the Maxima was one of the only sports sedans built outside of Europe.
In recent years, however, they've grown toward each other. The Avalon got sportier and the Maxima got more comfortable. But which is the better midsize choice?
See a side-by-side comparison of the Maxima & Avalon »
What the Toyota Avalon Gets Right
The newest Avalon's most noticeable change is in its sheet metal. The current model has more style than all previous generations combined. Other improvements include two suspension tunes for a more engaging driving experience and an upscale interior.
The powertrain carries over from last year's model, which isn't a bad thing considering the 3.5-liter V6 provides decent power, albeit less than the Maxima, and slightly better fuel economy than the Nissan. The Avalon is also the better of the two for growing families, as its rear seats have more legroom. The Avalon also trumps the Maxima in cargo room, making it the better rig for family vacations.
What the Nissan Maxima Gets Right
As it has for almost its entire existence, the totally redesigned Maxima offers modern features and superior driving dynamics. While it easily handles hard turns and winding roads, the Maxima also provide a pleasing ride at highway speeds. The Maxima is also the better equipped of the two in terms of standard features.
The Maxima's powertrain is definitely the victor with its 300-horsepower V6 sending power to the front wheels through a continuously variable transmission (CVT) with a manual shift mode. All this combines to produce smooth acceleration and consistent throttle-response. Drivers will appreciate technology features that are easy to use through controls within easy reach.
Is the Avalon as Sporty as the Maxima?
Not quite. The Maxima is still the king of performance in its class, but the Avalon and other sedans are certainly close behind.
Our Verdict: Toyota Avalon
Though the Nissan Maxima may have a better driving experience, the new Toyota Avalon offers a better interior for families, more cargo room, and a competitive price.
Take a closer look at the Nissan Maxima »