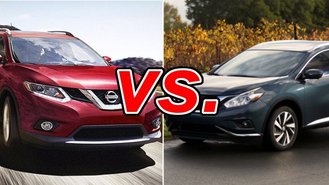 Every manufacturer wants to build CUVs that appeal to a wide audience with an array of capabilities. Nissan does just that with the compact Rogue and the midsize Murano. Both have plenty of style and utility -- what separates them is size and capacity. But which is the better choice for more buyers?
See a side-by-side comparison of the Rogue & Murano »
Going Head-to-Head
The Murano was one of the first crossovers sold in the U.S. -- it debuted in the early 2000s. Like the Rogue, which joined the lineup more recently, the Murano comes in standard form with an automatic transmission and front-wheel drive. All-wheel drive is optional on both vehicles. One difference is where the Rogue's cargo space of around 39 cubic feet with the seats up, whereas the larger Murano has around just 32 cubic feet with the seats upright.
You will find some differences under the hood. The Rogue has an inline-four with an underwhelming 170 horsepower and 175 pound-feet of torque, while the Murano's 260-horsepower V6 has a lively throttle, and good handling as well. The Murano has greater length -- 10.1 inches -- but it's the Rogue that offers an option of third row seating.
Both will serve their buyers well.
Our Verdict: Nissan Rogue
The Rogue offers better fuel economy and more seats. Considering this, and the fact that the base price is almost $8,000 less than a Murano, we're going with the Rogue.
Take a closer look at the Nissan Rogue »