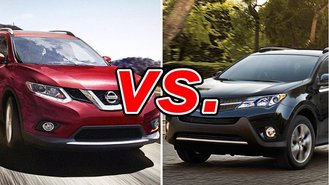 The Toyota RAV4 is an industry leader in the compact SUV market, and has been since its introduction in 1996. The Nissan Rogue is a relative newcomer to this class, having only been around since 2008.
See a side-by-side comparison of the Rogue & RAV4 »
In a segment flooded with vehicles it has become difficult for crossovers to stand out -- so how does a newcomer like the Rogue fight for attention against well-established veterans like the RAV4?
What the Nissan Rogue Gets Right
The first thing buyers are likely to notice about the Rogue is its price tag -- it's more affordable than many vehicles in its class. The Rogue offers three trim levels, both powered by a 2.5-liter four-cylinder engine nearly matches the RAV4, but also delivers up to 33 mpg highway.
The Rogue is available in all-wheel drive and navigates the road smoothly. It seats five, has great options like a sunroof, navigation system with real time traffic and a 360-degree camera. The cabin is fresh, intuitive and comfortable. The center console and under-floor organizer are especially innovative.
What the Toyota RAV4 Gets Right
The restyled RAV4 is offered in four trim levels and all of them feature the same 176-horsepower 2.5-liter four-cylinder engine, six-speed transmission and front-wheel drive. All-wheel drive is also available.
The interior is modern and Toyota's Entune system is impressive, though somewhat difficult to set up and navigate at times. Storage is impressive, and with second-row seats folded there is 73.3 cubic feet of space. The transmission shifts quickly and accentuates power from a somewhat weak engine.
How Does the Rogue do Against the RAV4?
The RAV4 is larger, has a tad more power, and features the Toyota Entune system. However, the Rogue features a lower price, higher fuel economy, innovative storage capabilities, a quicker engine and a more comfortable cabin. Both offer good safety features and all-wheel drive, but the Rogue drives more smoothly.
Our Verdict: Nissan Rogue
We love the interior dimensions and the transmission on the RAV4, but the Rogue offers several creative storage options and a better overall driving experience.
Take a closer look at the Nissan Rogue »