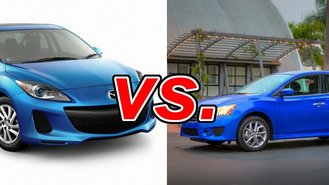 There has been a Sentra on the U.S. market ever since Datsun changed its name to Nissan in the early 1980s. The inexpensive and efficient Nissan Sentra replaced the Datsun 210, and entered its seventh generation three decades later.
See a side-by-side comparison of the Sentra & Mazda3 >>
Although launched more recently, in 2004, the Mazda Mazda3 also continues where previous models like the 323 and the Protegé left off. Conceived with Mazda's "zoom zoom" philosophy, it's a peppy, stylish compact that offers more driving fun than competitors.
So how do the Sentra and the Mazda3 compare?
What the Nissan Sentra does right
In 2013, Nissan came out with an all-new Sentra, which sports an upscale look and more interior space than you'd expect in a compact. It can also be equipped with plenty of high-end amenities: leather seating, dual automatic climate control, and a Bose premium sound system.
Nissan has obviously decided to emphasize entry-level luxury – and few buyers will complain about that.
What the Mazda3 does right
The Mazda3 made quite a splash when it appeared in 2004. Few of its competitors looked as stylish or handled as well. Here was a stylish car with sporty handling.
A second-generation Mazda3 hit the market in 2009, and built on the previous car's strengths with SkyActiv technology that enhanced performance and economy. It makes good on Mazda's "zoom zoom" promise. The current Mazda3 is quick, agile and as much fun to look at as it is to drive.
Does Tradition Win Out Over Flash?
The Nissan Sentra takes a conservative approach to compact transportation, placing an emphasis on solid value and design. In comparison, designers of the zippy Mazda3 seem to have let loose.
Our Verdict: Mazda Mazda3
On paper, little separates the Sentra and the Mazda3. Drive them back-to-back, however, and there's no doubt that the Mazda is more fun to drive.
Take a closer look at the Nissan Sentra >>