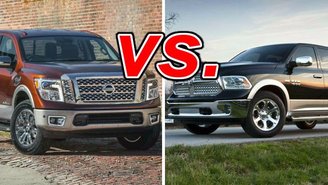 Pickup trucks have seen significant changes in recent years, as they continue catering to customers with a broad range of tastes – some might want a simple work vehicle, while plenty more need a vehicle with premium amenities. Both the all-new Nissan Titan and the Ram 1500 cater to these crowds. But which spans this broad range of buyer needs more effectively?
See a side-by-side comparison of the Titan & 1500 »
What the Titan Gets Right
While base Titan's S trim is pricier than the base Ram 1500, Nissan makes up for the premium by featuring a handful of comfort and tech gadgets that Ram doesn't include with its base 1500. These include cloth upholstery, a six-speaker audio system, Bluetooth connectivity with audio streaming, and keyless entry.
The Titan uses Nissan's Zero Gravity seats, which should make things nice and comfortable, even on long trips.
Inside, buyers will find plenty of storage cubbies for stashing small items. The interior also has a blocky design that pickup truck buyers should find pleasing and controls large enough the driver can operate them with gloves on.
With up to 9.8 inches of ground clearance from its off-road-ready PRO-4X trim, the Titan has an inch of extra ground clearance compared to the Ram 1500 Rebel (the highest riding of the Ram 1500s).
What the Ram 1500 Gets Right
The Ram comes in at a starting price of just $27,390 (destination fees included), giving it a $3,385 cushion versus the Titan. With this low price also comes a more utilitarian cabin, with features like vinyl seats, that fits dirty work better than the plusher cabin in the Nissan.
Under its hood, the Ram has a base V6 engine, while the Titan's V6 engine isn't on sale yet. Speaking of engines that the Titan can't match, the Ram 1500 has an optional 3.0-liter V6 diesel that delivers 29 miles per gallon highway and still has the oomph, with 240 horsepower and 420 pound-feet of torque, to tow up to 9,200 pounds. The Ram's range-topping 5.7-liter V8 also outmuscles the Titan's 5.6-liter with 395 hp and 410 lb-ft of torque, which helps it out-tow the Titan 10,700 pounds to 9,730.
Finally, in its crew- and quad-cab configurations, the Ram 1500 has significantly more rear-seat leg room than the Titan at 40.3 and 34.7 inches, respectively.
Who is the Titan Good For?
The Nissan Titan, while not up to the same level as the Ram 1500, has lots to offer. With its additional standard features, Nissan designed it for buyers looking for additional technology and comfort from their truck from the base model up. Additionally, with its higher-riding PRO-4X model, it also caters to the off-road crowd.
Verdict: Ram 1500
The Ram 1500 is far from a leader in the pickup segment, but it squeaks by the Titan with its more powerful engines, lower starting price, impressive towing capacity, and the ability to handle a wider array of buyers.
Take a closer look at the Nissan Titan »