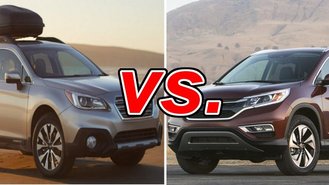 Before the SUV craze began in the 1990s, wagons dominated the all-wheel drive market. There were several choices from manufacturers like Eagle, Toyota, Nissan, Mitsubishi and Honda. But one manufacturer was synonymous with the all-wheel drive wagon: Subaru. That tradition continues with the Outback.
As one of the first crossover SUVs, the Honda CR-V was also a groundbreaking vehicle at its debut that earned a loyal fan base. But how does it compare to the Subaru Outback?
See a side-by-side comparison of the Outback & CR-V »
What the Subaru Outback Gets Right
The Outback has a Lineartronic continuously variable transmission (CVT) with a manual shift mode mated to a standard 175-horsepower 2.5-liter four-cylinder. Checking the box for the Outback 3.6R boosts horsepower to 256 horsepower with a boxer six-cylinder motor; the only one you'll find on the market outside a Porsche showroom. Opting for more power mandates a drop in fuel economy: 20/27 mpg city/highway versus the four-cylinder's 25/33.
What the Honda CR-V Gets Right

Featuring a 2.4-liter inline-four mated to a CVT and a choice of front- or all-wheel drive, the CR-V has a less expensive starting price than the Outback. Cargo capacity behind the back seat is nearly three cubic feet larger than the Subaru, though the Outback has more space when seats are folded.
With front-wheel drive – not available on the Outback – the CR-V also boasts better fuel economy at 27 mpg city and 34 mpg highway.
Our Verdict: Subaru Outback
The Subaru has a tighter turning radius, a more proven and capable all-wheel drive system, and twice the Honda's towing capacity. The Outback also offers more drivetrain options, making it the winner in this comparison.
Take a closer look at the Subaru Outback »