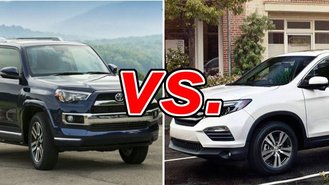 The Toyota 4Runner and Honda Pilot may both occupy the same mid-size SUV segment, but they come from very different backgrounds.
See a side-by-side comparison of the 4Runner & Pilot >>
The Toyota started its life, essentially, as a pickup truck with an enclosed bed; the Honda, meanwhile, debuted almost twenty years later as a purpose-driven people carrier. However, as time has gone on, both have developed into midsize SUVs for people who really don't want a minivan.
So the question is, who has been more effective at achieving this utility while keeping some of the sport?
What the Toyota 4Runner Gets Right
The 4Runner may be equipped with the modern amenities discerning buyers expect, but beneath its sheet metal beats the heart of an old-school trailblazer. The Trail model includes old-fashioned off-road features such as a live-rear axle and a locking rear differential. There is also a multi-terrain mode select with a CRAWL function that automatically adjusts the throttle response of the vehicle in especially challenging terrain.
The 4Runner is powered by a 4-liter 270-horsepower V6 mated to a five-speed automatic transmission. With seating for up to seven passengers, the Toyota has plenty of room for everyone in the family.
What the Honda Pilot Gets Right
The Pilot doesn't try to be something it's not. While it has all-wheel drive, it isn't the same sort of hard-duty system found in the Toyota. However, it is perfectly capable of getting you where you're going, whether it's snowing or not. Also, with a monitor for rear-seat passengers and inputs for video game consoles, you can bet that the kids will have plenty to keep them occupied on long trips.
Power comes from a 3.5-liter 250-horsepower V6 and achieves economy of up to 18 mpg city and 25 highway -- all this while carrying up to eight passengers.
Which Best Blends Utility and Sport?
Honestly, this is a toss up. The Toyota offers more sporting prowess off-road while the Honda offers quite a bit more utility. However, the edge has to go to the Pilot since its practicality is so comprehensive.
Winner: Honda Pilot
We feel that the Honda is just so good at, well, being a Honda. There are three words that perfectly sum up the Pilot: utility, utility and utility.
Take a closer look at the Toyota 4Runner >>