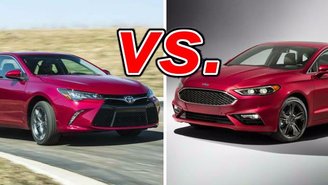 The midsize sedan market is tricky to master. Buyers demand space, comfort, reliability, and efficient-but-powerful engines. For years, no car has dominated the segment like the Toyota Camry. While it may have a reputation for bland styling and average performance, the Camry is a car you can depend on for years on end.
Of course, other automakers aren't about to let Toyota have the market to itself. One of the Camry's more worthy opponents in recent years has been the Ford Fusion. It definitely wins the prize for looks, but is its beauty only skin deep?
See a side-by-side comparison of the Camry & Fusion »
What the Camry Gets Right
Toyota addressed the Camry's image problem last year with sharper body contouring and a more aggressive front end. The result wasn't dramatic, but enough to give the Camry some genuine character.
The standard 2.5-liter four-cylinder produces 178 horsepower, and you can upgrade to a 3.5-liter V6 with 268 horsepower. Both engines deliver power to the front wheels through a six-speed automatic transmission. Also available is a 200-horsepower hybrid setup that delivers up to 41 mpg in combined city and highway driving.
What the Fusion Gets Right
The Fusion remains one of the best-looking family cars in existence. The wide horizontal grille and dramatic roofline will remind you of cars costing twice as much. The impressive design continues inside, where you'll discover plenty of high-quality materials and technology features.
On the road, the Fusion always manages to be quiet and composed, imparting the feel of an entry-level luxury car. Wind and engine noise have been all but engineered out at highway speeds.
The Fusion comes standard with a 175-horsepower four-cylinder engine. For greater power and efficiency, you can upgrade to one of two available turbocharged engines with up to 231 horsepower. All-wheel drive is available with the top engine. The Fusion also offers hybrid and plug-in hybrid power plants.
Can the Fusion Unseat the Camry?
The Fusion is a capable car, but tries a little too hard to be one. There's so much to choose from, it's hard to pinpoint what the Fusion is, exactly. It's an example of the old saying about being good at many things and great at none.
Our Verdict: Toyota Camry
We chose the Camry because it isn't over-designed, which helps it appeal to a wide consumer base. It does what it was made to do and does it as well as ever.
Take a closer look at the Toyota Camry >>