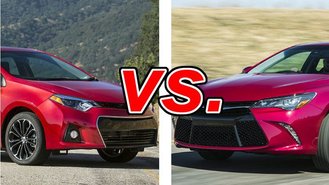 Both the Toyota Corolla and the Camry have been big sellers for a long time and it's easy to see why. Both are affordable, economical and historically reliable, even if they haven't been the most fashionable choice. Toyota has worked hard in recent years to remedy that problem, with the all-new exterior of the 2015 Camry being the latest example. The Corolla and Camry have never looked better, but what other reasons are there to cross-shop between the two?
See a side-by-side comparison of the Corolla & Camry »
Going Head-to-Head
With prices starting at $16,800, the Corolla is still a very affordable option for a buyer looking for something brand new. It is available in four trims: the L, LE, LE Eco and S. All are powered by the 1.8-liter four-cylinder engine making 132 horsepower except for the LE Eco, which makes 140 horsepower. The base L gets a four-speed automatic transmission, while the others all get a continuously variable transmission (CVT). Fuel economy is very good with the Corolla -- as high as 30 mpg city and 40 mpg highway should you go for the Eco model. The exterior upgrade has done away with the soft, outdated look of the last generation in favor of sharp, masculine lines.
The Camry's price, at $22,970, is a good bit higher than the Corolla's, but you are moving into a larger vehicle, so the difference is easily justified. The Camry is also available in six gasoline-only trims, but unlike the Corolla, the Camry is also available in three Hybrid trims. All six non-hybrid trims are powered by a 2.5-liter, 178-horsepower, four-cylinder engine and all are equipped with a six-speed automatic transmission. Fuel economy figures sit at 25 mpg city and 35 mpg highway for the standard models; the hybrid version gets as high as 39 mpg city and mpg 43 highway. The interior feels quite a bit larger and more luxurious than the Corolla, which only further eases the mind of the potential buyer wincing at the extra cost.
Our Verdict: Toyota Camry
The Corolla may look great in its new skin, but we'd still take the Camry, despite the cost. The overall driving experience and amenities are quite a bit better than the Corolla's, at a price that isn't too far apart to be completely out of the ballpark.
Take a closer look at the Toyota Corolla »