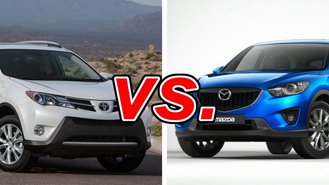 We could call this comparison "An Oldie but Goodie Meets the New Kid on the Block." Toyota's RAV4 dates back to 1996, making it one of the first compact SUVs on the American market. On the other hand, the CX-5 debuted in 2013.
See a side-by-side comparison of the RAV4 & CX-5 >>
However, to be fair, the RAV4 was treated to a complete redesign for 2013, so the two vehicles are essentially the same age. But is one better -- or smarter -- than the other?
What the Toyota RAV4 Gets Right
There is only one engine choice for the new RAV4, a 176-horsepower 2.5-liter four-cylinder, with fuel economy estimates of 26 mpg in combined driving for the front-wheel-drive version. Most drivers find that this engine provides enough power for most situations.
Passengers, dogs, and cargo all have plenty of room in the RAV4, with a maximum cargo capacity of 73 cubic feet, one of the largest in the compact SUV segment. The newly added top-hinged liftgate allowed Toyota to engineer a low loading height that makes stowing heavy or awkward cargo a cinch.
What the Mazda CX-5 Gets Right
Two standard four-cylinder engines give CX-5 buyers a choice of power ranges. The larger of these provides 184 horsepower, which is sufficient to propel this SUV through most traffic scenarios. As one of the first Mazda models to get the company's new Skyactiv technology, including lightweight construction and improved engines, the CX-5's fuel economy estimates are among the best in the class.
The CX-5 gets good reviews for its handling prowess, which is precise and efficient and adds a quota of fun to the daily driving experience.
Which SUV Is the Smartest?
It's a tough call because both the RAV4 and the CX-5 have all the latest technologies, such as blind-spot and cross-traffic warning systems, as either standard or optional equipment. They also both get above-average mileage figures for the class, adding to their potential desirability in years to come.
Our Verdict: Mazda CX-5
We think the CX-5's innovative lightweight structure, efficient engines and great handling give it an edge over the competition.
Take a closer look at the Toyota RAV4 >>