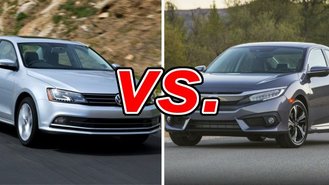 The long-running Volkswagen Jetta aims to compete directly with other economical compacts, which means a focus on lower price and simplified equipment choices, and greater emphasis on fuel efficiency. Despite its roomy interior and grown-up looks, the Jetta sedan carries the lowest sticker price in the VW lineup.
The Honda Civic received a substantial redesign for the 2016 model year that gave it an all-new look, new engines, and new body styles. It's an impressive package of enhancements for a model that's still so new to the market.
How does the value-oriented Jetta stack up against the reinvigorated Civic?
See a side-by-side comparison of the Jetta & Civic »
Where the Jetta Delivers
The Jetta optimizes the notion of a lot of car for the money. Interior and trunk space come close to midsize levels, and features like heated outside mirrors, a 5-inch touchscreen, Bluetooth connectivity, and express up/down windows are included in the modest base price. The Jetta offers clean and sensible styling inside and out, which makes it unique in a field that thrives on trends and cuteness.
The standard 1.4-liter turbo engine makes 150 horsepower and 184 pound-feet of torque, but buyers can upgrade to a 1.8-liter with 170 horsepower, or a 2-liter turbo with 210 horses. There is also a hybrid model that cranks out 170 horsepower and gets up to 48 mpg combined.
Despite having overall less interior room than the Civic, the Jetta does offer 0.7 inches more rear-seat legroom and an extra 0.7 cubic feet of trunk space than the Civic sedan.
See more sedan comparisons here »
Where the Civic Delivers
The redesigned Civic's new look puts it in a class of its own, and buyers now have three body styles to choose from: sedan, coupe, and hatchback. The Civic manages to pass the well-equipped Jetta in terms of features, as it comes standard with more desirable features like a rearview camera, automatic climate control, and more. Additionally, the Civic has more soft-touch and premium materials that make it feel like a more expensive vehicle.
The Civic's base 2-liter engine is slightly more powerful than the Jetta at 158 horsepower, but it does fall short in torque. With its optional 1.5-liter turbo engine, the Civic pushes out 174 horses and 162 pound-feet of torque. Buyers going with the more versatile hatchback model also have the option of a 180-horsepower 1.5-liter in the Sport Touring trim. What's more, with up to 35 mpg combined, the Civic bests nearly everything in its class.
The Civic's new, versatile hatchback model adds a touch of cargo-hauling capabilities that the Jetta just can't touch.
The Jetta is a Good Option… For Some
The Jetta is great for some buyers as its larger rear seat and trunk make it feel larger than its compact classification. However, its lack of premium materials and subpar handling put it out of the running with the Civic.
Our Verdict: Honda Civic
A new look, new engines, and a new hatchback model make the Civic our choice.
Take a closer look at the Volkswagen Jetta »