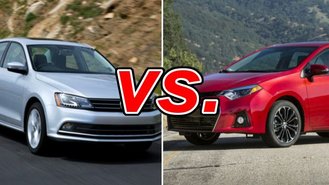 Two long-running rivals, the Volkswagen Jetta and Toyota Corolla are closer in mission now than ever before. The Jetta's received a redesign in 2011 that placed it among the least expensive econo-sedans on the market. It now stands shoulder-to-shoulder with Corolla in the all-important value category.
See a side-by-side comparison of the Jetta & Corolla »
Both models are positioned squarely in front of buyers looking for reliable, inexpensive transportation with no surprises. The Corolla has catered to this market for decades, and now the Jetta makes a strong play for it, too.
Jetta Highlights
The VW optimizes the notion of a lot of car for the money. Interior and trunk space come close to midsize levels, and features like heated outside mirrors and express up/down windows are included in the modest base price. The Jetta offers clean and sensible styling inside and out, which makes it unique in a field that thrives on trends and cuteness.
For 2016, VW dropped the wheezy 2-liter four-cylinder and replaced it with a 150-horsepower 1.4-liter turbocharged engine that delivers up to 40 mpg highway. What's more, there is the optional 1.8-liter turbo-four that pumps out 170 ponies, and and the revised GLI's 210-horsepower 2-liter turbocharged engine for buyers looking for more pep.
Corolla Highlights
As in previous years, the Toyota is a smooth performer that's roomy for its class and screwed together well. Its easy drivability makes it a natural choice for all types of drivers, from college kids to folks buying their last car. The Corolla also comes pretty well equipped with standard features like voice-activated controls, a six-speaker audio system, and more.
Its 1.8-liter engine may not be overly powerful, but it certainly rivals the Jetta in terms of fuel economy with up to 42 mpg in its LE Eco trim.
Which Works Best?
The Corolla continues to resonate strongly with consumers, despite facing newer competition. It's a no-hassle car that performs as promised for years on end. Buyers looking for sheer practicality know they won't be disappointed. The Jetta scores nearly as well in that department, and also offers unique German flavor and intriguing engine choices.
Our Verdict: Volkswagen Jetta
The Corolla wins on mass appeal, but the Jetta edges past it in overall substance, performance, and value.
Take a closer look at the Volkswagen Jetta »