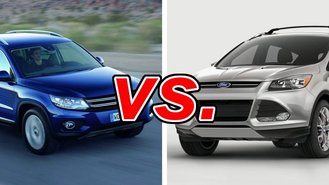 The golden age of the gas-guzzling SUV has passed, replaced by an era of fuel-efficient and car-like crossovers.
See a side-by-side comparison of the Tiguan & Escape »
The Ford Escape and the Volkswagen Tiguan combine most of a traditional SUV's good points in a compact package that eliminates most of its bad points. But which is friendlier and more approachable to the modern driver?
The Great Escape
The Ford Escape was completely redesigned for 2013. Its 1.6-liter four-cylinder engine offers an economical 23 mpg city and 33 mpg highway; the 2-liter churns out an impressive turbo-assisted 231 horsepower while retaining similar fuel efficiency numbers.
The Escape shares its platform with the Focus, and is perfect for those who need more space than the hatchback can offer. The interior feels high-tech, modern and luxurious. Upmarket SE, SEL and Titanium trim levels come with navigation, satellite radio, iPod connectivity, voice-activated Sync controls and available all-wheel drive.
The Tremendous Tiguan
The Tiguan arrived in 2007 in S, SE and SEL trim levels, all sporting the same 2-liter turbocharged power plant that produces 200 horsepower. Volkswagen offers Bluetooth connectivity across the range, while higher trim levels feature navigation, iPod and USB connectivity, and satellite radio. Although offering occasional hints of German luxury, the interior feels somewhat basic when compared to the Escape.
Gas mileage also suffers in comparison to the Escape, topping out at 21 mpg city and 26 mpg highway.
Are They Equals?
The Tiguan and the Escape are competitive vehicles, but the Volkswagen can't quite match the Ford's polish.
Our Verdict: Ford Escape
With better gas mileage, higher available horsepower, more standard features and a lower price, the Ford Escape edges out the Volkswagen Tiguan in this comparison.
Take a closer look at the Volkswagen Tiguan »