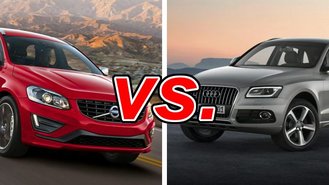 It goes without saying that buyers shopping for a crossover, even a compact one, require more utility than a passenger car can muster. The Audi Q5 and Volvo XC60 deliver that, plus the premium appointments and fine build quality buyers expect in the luxury class.
See a side-by-side comparison of the XC60 & Q5 >>
Which model makes the stronger case for getting your crossover from a luxury brand?
Where the Q5 Scores
The Q5 performs with the same athleticism as the A4 sport sedan on which it's based. It's a thoroughly engaging crossover with quick steering, brisk acceleration and a relatively firm suspension. With standard all-wheel drive, the Q5 can tow up to 4,400 pounds, well above average for this class.
The standard 2-liter turbo with 211 horsepower propels the Q5 from zero to 60 mph in 6.8 seconds. Audi also offers a supercharged 3-liter V6 that pumps out 272 horsepower and reduces the time to 60 mph by a full second.
The rear seat in the meticulously crafted cabin reclines and slides for optimal passenger comfort. With the seat folded down, the Q5 can handle up to 57 cubic feet of cargo.
Where the XC60 Scores
The XC60 maintains Volvo's legacy of sensibility while shedding the dowdiness of the brand's past family vehicles. It's still rather conservative, but handsomely so, and its interior deftly combines functionality with inviting style. When it comes to passenger room, the XC60 ranks at the top of its class. The rear seat holds a pair of integrated boosters that fold out when tykes are aboard. The seat itself folds a number of different ways to accommodate a mix of people and cargo. Fold it down completely and you get an impressive 67 cubic feet of space.
The Volvo's standard 3.2-liter six-cylinder produces 240 horsepower. Zero to 60 mph takes about 9 seconds, a leisurely performance for this class. Buyers who need more oomph can opt for a 3-liter turbocharged six-cylinder with 300 horsepower, which brings the XC60 to 60 mph in 7 seconds flat.
Settling the Score
The Audi performs with the vigor of a sport sedan that happens to have a knack for carrying cargo. The Volvo doesn't have that kind of sporting DNA, but it's as family-friendly as you could hope for in this class.
Our Verdict: Audi Q5
The Q5 shines as a temping blend of utility, luxury and sport.
Take a closer look at the Volvo XC60 >>