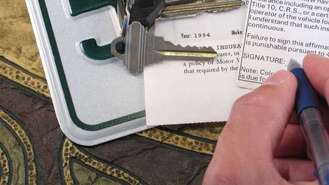 Renewing your DMV tags for your license plate and registration is a process that must be completed on an annual basis. Although the exact process varies from state to state, there are many tag renewal steps that are common to all areas. Renewing your tags can be an easy process, as long as you have the necessary paperwork in order before visiting a DMV office. This guide highlights how to renew your tags quickly and easily. If you have any specific questions regarding tags in your state or county, please contact a local DMV office or your DMV website for steps specific to your state.
Review Your Renewal Notice
Several weeks before your current tag expires, you will receive a bill to renew your tags in the mail. Make sure that the information, including the license plate number and vehicle identification number, match your car. If any information is incorrect, be sure to contact your DMV to get this information corrected before renewing. You do not want to drive around with a plate assigned to the wrong vehicle or any other misinformation in the system.
Determine the Renewal You Need
Depending on your state's DMV, there may be different classifications of renewal available. You might be able to register your vehicle and tags for less than a year, or in some cases you may be able to extend your registration beyond a year. This can vary based on your birthday and the method you use to renew your tag.
Renew Your Tag
Renewing your tag can be done in three ways. You can return the renewal bill received in the mail to your DMV via traditional mail. In turn, your updated license plate tags and registration will be mailed to your home address. Although this is an easy solution, you must remember to enclose payment for the tags, and remember that it may take weeks to process your application and send your tag renewal tags. If there is less than a month before your current tag expires, you should probably renew using one of the following methods.
Many states offer an online renewal system. The renewal bill received in the mail will have the web address of this service if it is offered in your state. Renewing on the Internet is convenient, as you may pay with a debit or credit card, and your request will be received by the DMV instantly, helping to expedite the renewal process.
The third way to renew your tag is to visit a DMV office in person. This will result in your tag renewal and updated vehicle registration being issued immediately. If you have waited too long to renew your tags, or they have expired altogether, visiting an office in person is your only choice. Remember, in some states, DMV branch offices do not accept credit or debit cards, so you need to have enough money in cash or in your checking account.