Used 2013 Toyota Highlander For Sale Near Me
16 vehicles within 50 miles of
2013 Toyota Highlander Overview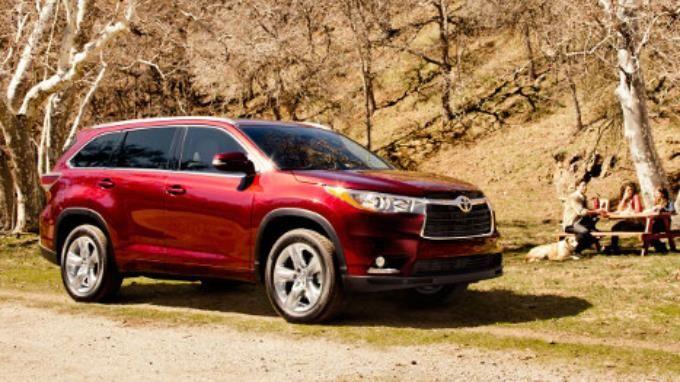 The Toyota Highlander began its journey in 2001 as a mid-size SUV that rode atop a uni-body construction. This afforded the Highlander a comfortable ride, but gave it a slight disadvantage in towing. This lack of towing was not a deterrent, as the highlander continues strong into the 2013 model year.

The 2013 Toyota Highlander is pretty much a carryover, save for a few minor changes. Likely the largest change of the model year is the addition of the Base Plus trim level, which gives buyers the choice of a more efficient four-cylinder with the upgraded features of the "Plus" package. Other than the new trim level, the Highlander received some movement in standard features and the addition of Entune as an available option.
The 2013 Highlander comes in six main trim levels, and they are: Base, Base V6, Base Plus, Base Plus V6, SE V6 and Limited V6. The Base model includes all of your basic amenities and a rather large-displacement four-cylinder engine. The Base V6 adds a V-6 engine to the mix and optional four0wheel drive. The Base Plus tosses in upgraded fabric seating and some other minor upgrades. The Base Plus V6 adds a V-6 engine and the choice of optional four-wheel drive to the Base Plus trim. The SE V6 adds some real luxury with its leather interior and upgraded exterior. Finally, the Limited V6 adds in all of the features expected of a premium SUV, like: perforated leather, nine-speaker audio with navigation and chrome accents throughout the cabin and around the body. In terms of towing, should you need to haul a trailer, all four0cylinder-equipped models can tow up to 1,500 pounds and all six-cylinder-equipped models can haul up to 5,000 pounds.
The Highlander lives in a crowded realm that is chock-full of competitors. First up on this long list is the 2013 Dodge Durango, which comes standard with a 3.6-liter V-6 with 290 horsepower, rear-wheel drive and a 6,200-pound towing capacity. Next up is the 2013 Ford Flex, which includes a 3.5-liter V-6 engine with 285 horsepower, front-wheel drive and a 4,500-pound towing capacity. Finally, you have the 2013 Hyundai Santa Fe, which comes standard with a 2.4-liter four-cylinder engine with 190 horsepower, front-wheel drive and a six-speaker audio system.
As you can see, there is plenty of competition for the Highlander to face off against, so Toyota needs to develop a winner to overtake them all.
Find Your New Toyota Highlander On CarsDirect
Recent Articles on Toyota Highlander
Insider Information
We have information you must know before you buy the Highlander. We want to send it to you, along with other pricing insights.
I agree to receive emails from CarsDirect. I understand that I can unsubscribe at any time.
We will not spam you, and will never sell your email. Privacy Policy.
Thank you. You are now subscribed to our Pricing Insider updates.
Find more information on Toyota vehicles