The Ford Fiesta is an excellent choice for a small car that's fun to drive. The subcompact hatchback and sedan offer class leading technology and deliver outstanding fuel economy. Despite diminutive size, the Fiesta has a surprising amount of space for passengers and cargo.
What's New for 2014
The big news this year is the introduction of a new 1- liter EcoBoost three-cylinder engine that achieves up to 45 mpg highway with a Fuel Economy Package. The Fiesta sports an exciting new look with a bold chrome grille and new hood. The Fiesta is also available with Ford's SYNC System and MY Touch, plus optional leather-trimmed seats, moonroof, heated mirrors, and an ambient lighting system.
Choose Your Ford Fiesta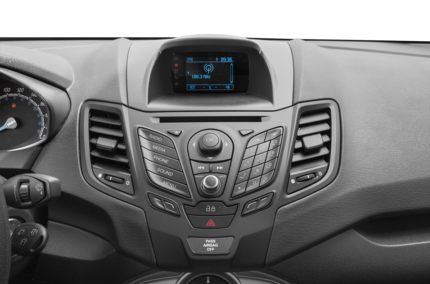 Zoom
Except for the high-performance ST, available only as a hatchback, the first major decision in a Fiesta purchase is between hatchback and sedan. If you want to save some money, and don't have a strong preference, it's worth noting sedans cost $500 less than similarly equipped hatchbacks.
Trim level determines everything from drivetrain to standard features and option package availability:
CarsDirect Tip
If you want hybrid-like mileage, an SE with the EcoBoost engine and Fuel Economy Package make it a serious bargain. We'd opt for a Titanium model, though—how often can you get that much for less than $20,000?