The term "hot hatch" is often used to describe a sporty, affordable small car that packs performance without sacrificing cargo space. The 2014 Ford Focus ST is a great example. As the first global performance machine from Ford, it gives American models get the same specs and power offered in other parts of the world.
What's New for 2014
For 2014 the Focus ST essentially carries over with the addition of a few trim items and some new colors.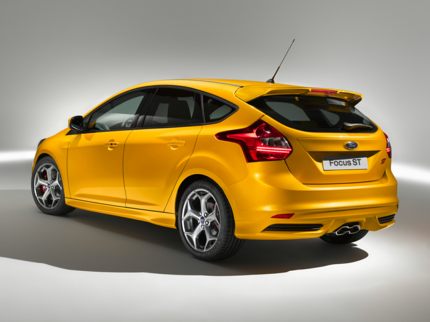 Choosing Your Ford Focus ST
The ST comes only with front-wheel drive and a six-speed manual transmission. All-wheel drive isn't offered, and neither is an automatic transmission. The ST stands out from the other Focus siblings with its performance look -- inside and out.
Under the hood, a highly efficient 2-liter EcoBoost engine helps the Ford Focus ST deliver an EPA-estimated 23 mpg city and 32 mpg highway, while producing an impressive 252 horsepower and 270 pound-feet of torque. Suspension and braking systems are upgraded to match the power. Advanced Torque vectoring tames torque steer very well. Standard features include Ford's SYNC system, power door locks, power windows, a leather-wrapped tilt steering wheel, a special gauge package, 18-inch wheels and much more.
Option Packages
ST 2 includes a Sony Audio System, Recaro partial leather seats, SiruisXM and HD radio.
ST 3 includes leather power Recaro seats, a Navigation system and HID headlights.
CarsDirect Tip
At $23,625, the Focus ST is a high performance bargain. Adding the $2,505 ST2 or $4,840 ST3 packages will enhance the experience, but will also push your bottom line toward $30,000.