The Honda Insight remains the least expensive new hybrid you can buy for the 2014 model year—with a starting price around $19,500, the Insight is over $5,000 cheaper than a base Prius.
Beyond its hybrid fuel economy and tempting starting price, though, there are compromises. The Insight's driving manners are rather unrefined and lackluster, even for a hybrid, and base models lack common features like cruise control, a USB input and even vanity mirrors.
Honda has announced this is the Insight's last year—bargain accordingly.
What's New for 2014
Changes to the Insight for 2014 are limited to minor color and trim changes.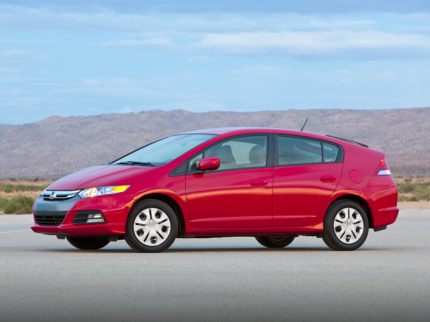 Choosing Your Honda Insight
Zoom
The Insight pairs a 1.3-liter four-cylinder gasoline engine with an electric motor to produce 98 horsepower and 123 pound-feet of torque. The engine itself, with two valves per cylinder, is relatively low tech, but everything else is appropriately high tech. The compact nickel-metal hydride battery pack recaptures and stores energy from vehicle braking and deceleration, which the electric motor can then turn into a power boost to aid acceleration.
The sole transmission is continuously variable (CVT), and helps the Insight to achieve EPA fuel economy ratings of is 41 mpg city and 44 mpg highway.
With Honda's tiered system, you won't have to worry about checking many option boxes—you simply buy the trim level with the features you want. Power output is measured at 98 horsepower and EPA city/highway fuel economy ranking.