Our Take: 2014 Land Rover Range Rover Evoque
We knew we'd like the Range Rover Evoque -- but we had no idea how much. During our test car's weeklong tenure at the CarsDirect office, "I want one" became a common refrain.
Price and Equipment
No Range Rover comes cheaply, and our test car—finished in Indus Silver—had an MSRP of $50,895 including destination. You can buy one closer to the Evoque's $41,100 base price if you eliminate extra-cost options like these:
Pure Plus Package ($3,000): We consider this option essential since it includes beautifully finished leather upholstery and a panoramic glass roof that delighted everyone who rode in the car.
Pure Premium Package ($4,600): Technological extras like navigation, a surround camera system and adaptive xenon headlights are nice, but part of a pricey package that could be skipped if it helps keep the Evoque in your price range.
Climate Comfort Package ($1,300): You don't have to live in an especially cold climate to appreciate heat for the front and rear seats, windshield, steering wheel and washer jets.
Performance Pros
Zoom
The Evoque feels as sporty as any SUV in its class. The turbocharged four-cylinder engine works with a six-speed automatic transmission to deliver instant power in almost any situation. Steering is quick and perfectly weighted, and the ride is refined. It's incredibly fun to drive, and we found ourselves treating it nearly as a sports car.
The turbo four returns an impressive 30 mpg highway, but does require premium fuel.
As a Land Rover product, the Evoque goes above and beyond all-wheel drive—the traction system can be tailored for specific conditions like snow, mud and sand.
Performance Cons
However sporty its demeanor, the Evoque is still an SUV with a higher center of gravity that must be respected in aggressive cornering.
To improve fuel economy, a start-stop system automatically turns the engine off and on when the Evoque comes to a rest in traffic. The clatter and shake while powering up is erratic and obtrusive.
Interior Pros
The Evoque's interior is elegant in design and material choice. As we often note, though, cream-colored upholstery is best reserved for the childless and petless.
Headroom may come up short for those over six feet in height, but we never felt cramped or constrained by the low roof—even in the rear seat.
Cargo space may not rival the squared-off LR4, but the Evoque has more useful storage space than you might expect.
Outward visibility is excellent, something we didn't quite expect from short windows all-around.
Interior Cons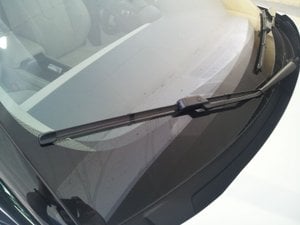 Zoom
The center console could provide better storage space for phones and other items.
The windshield wipers don't retract, something that seems incongruent in a premium, fashion-oriented car.
Veteran BMW drivers might absentmindedly mistake the dial-shaped gearshift for an iDrive control.
Most Pleasant Surprise
Most people look at the Evoque's dramatic styling and assume ownership requires some sort of functional sacrifice. We certainly did. But someone shopping for a compact SUV won't give anything up—the admiring glances from other drivers are just a perk.
Least Pleasant Surprise
Zoom
Start-stop technology is still being perfected, and we weren't keen enough on extra MPGs to abide the clunky operation of the Evoque's system. Switching off the ECO button in the center console became a regular habit whenever we started the car.
The Bottom Line
The Range Rover Evoque isn't for everyone. But we'd argue that its cross-category appeal is broader than anyone might think. Whether you're looking at sport-oriented coupes, sedans or SUVs, do yourself a favor and test-drive an Evoque before making your final decision.
Buying With CarsDirect
We have partnered with trusted dealers in your area to give you a great price on the new Land Rover Range Rover Evoque.
This is how it works:
We connect you to the Internet Department at a Trusted Dealership.
Use the CarsDirect Target Price as a tool in your negotiation.
The dealer will help you with financing or leasing, as well as trade-in options.