In case you're reminiscent for the era of SUV overload, the Armada is a throwback to a past era of supersizing.
What's New for 2014
The Armada continues without any changes.
Choosing Your Nissan Armada
All Armada models are powered by 5.6-liter V8 that sends 317 horsepower to the rear wheels—or all four—through a five-speed automatic transmission. Don't expect anything approaching fuel efficiency. The Armada is rated at 13 miles per gallon in city driving conditions and 19 miles per gallon on the highway.
There is seating for eight across the range, and this ultimate party-mobile provides up to 14 cup holders.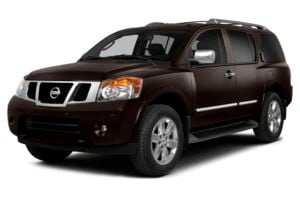 CarsDirect Tip
For large, active families who place a priority on space and utility, an SV or SL should be a ideal partner for recreation and day-to-day life. Before spending $50,000 or more on a Platinum, though, check out the similar INFINITI QX80.