The Nissan Leaf is the world's first mass-produced, 100-percent electric vehicle, and can travel about 84 miles on a single charge. It has received awards and accolades from the world's automotive press, and is the world's best-selling EV to date—Leaf sales have steadily increased every year.
Nissan saw a large increase in sales when a drastic 2013 price cut enabled customers who qualified for maximum state and federal incentives to buy a Leaf S for less than $20,000.
Savings continue with reduced energy consumption. A Leaf operates for the electric equivalent of 126 mpg in the city and 101 mpg on the highway.
What's New for 2014
In 2013, the Leaf gained an optional 6.6 kW onboard charger that cut 220V charging time nearly in half, to approximately four hours for a full charge. Additional enhancements for 2014 include a rearview monitor that's now standard across the lineup.
Choosing Your Nissan LEAF
The Leaf is offered in three trim levels: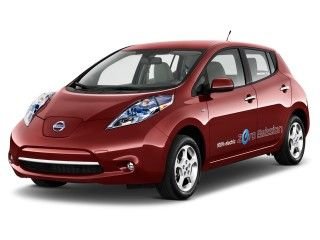 CarsDirect Tip
According to Nissan, the average American drives fewer than 33 miles each day. That's well within the Leaf's range, making it a viable option, particularly for families who also have a conventional car for longer-range trips. For its fast-charge capabilities alone, we'd opt for the midrange SV over the base S. And while the SL has many features we like, but is also significantly more expensive than the SV.