Chevrolet is wading into new waters with the 2015 Trax, a small crossover that's 20 inches shorter than the brand's compact Equinox. The Trax has the footprint of an economy car coupled with the height and interior versatility that buyers seem to love so much. When you throw efficiency and price into the mix, you can see why Chevy believes there's untapped demand for a miniature breed of crossover.
What's New for 2015
The Trax is a totally new model.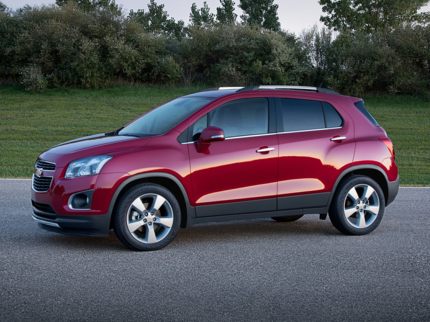 Choosing Your Chevrolet Trax
The Trax's interior is more spacious than you might expect given its petite exterior dimensions. There's 18.8 cubic- feet of cargo space behind the rear seat, which is more than you get in Chevy's full-size Impala sedan. With the seat folded, you're looking at 48.4 cubic-feet, which is similar to a compact wagon. The front passenger seat folds down as well, a nifty feature that allows you carry long objects (up to 8 feet) and still close the tailgate.
The turbocharged 1.4-liter four-cylinder engine produces 1338 horsepower and is paired with a six-speed automatic transmission. All-wheel drive is available across the board in place of the standard front-drive setup. You can expect to get about 28 mpg in combined city and highway driving.
Like other Chevrolet models, the Trax is offered in LS, LT and LTZ trim: