The XF does a remarkable job of distilling the elegance and character of Jaguar's flagship XJ sedan down to a tidy midsize package. Like its larger stablemate, the XF starts out luxuriously equipped, and then goes on to offer an impressive array of performance upgrades.
What's New For 2015
The 3.0 Portfolio and Sport trim levels join the lineup, and the base model gains some standard equipment.
Choosing Your Jaguar XF
As expected, the XF sports a finely tailored leather interior with heated front seats, driver memory functions, and wood and aluminum trim. You also get a sunroof, keyless ignition, automatic wipers, a navigation system and a 12-speaker audio system with satellite and HD radio. Safety is enhanced by a rearview camera, blind-spot monitoring, and front and rear parking sensors. Outside, the XF wears 18-inch wheels, xenon headlamps and LED taillights.
The base 2-liter turbocharged four-cylinder engine produces 240 horsepower. The available 3-liter supercharged V6 ups the ante to 340 horsepower. For performance fans, Jaguar offers a 5-liter supercharged V8 that cranks out 470, 510 or 550 horsepower depending on the trim level. Four-cylinder and V8 models are rear-drive only; the V6 can be paired with all-wheel drive. An eight-speed automatic transmission is deployed in all XFs.
Trim levels correspondent to engine size and output: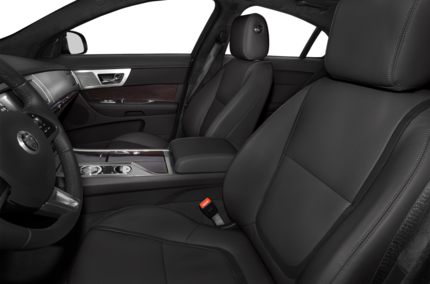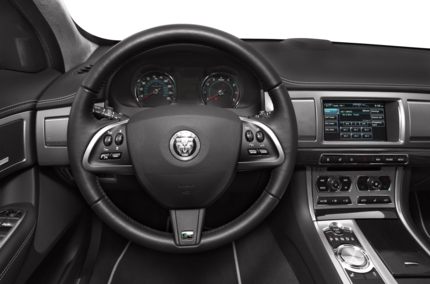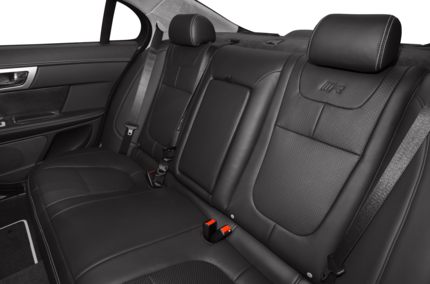 CarsDirect Tip
With a lineup this large, expect significant price differences between trim levels. For example, the XFR-S stickers for twice as much as the 2.0T Premium. Speaking of the 2.0T, we find its four-cylinder engine much too sedate for this class. Upgrading to just the V6 provides a dramatic boost in performance.