When a full-size SUV just isn't enough, buyers turn to mega vehicles like the Navigator L, the stretched version of Lincoln's already-imposing Navigator. Only a handful of SUVs get this big, and just one, the Cadillac Escalade ESV, offers a comparable mix of size and luxury.
What's New for 2015
A turbocharged V6 replaces last year's V8, and bodies wear all-new front and rear styling. Certain dashboard controls have been redesigned for easier use.
Choosing Your Lincoln Navigator L
Compared to the standard Navigator, the L offers 14 additional inches of length behind the third row and 25 extra cubic-feet of cargo space for a total of 128. Like its junior sibling, the Navigator L now carries a 3.5-liter turbocharged V6 with 380 horsepower, a gain of 70 horses over the old V8. Towing capacity hasn't suffered at all in the transition -- you're still good to haul up to 9,000 pounds with the standard heavy-duty towing package. As before, a six-speed automatic transmission is standard, and a four-wheel drive system is available for about $4,000. Thanks to the new engine, the Navigator L can now hit 20 mpg on the highway.
The Navigator L is offered in two luxuriously equipped trim levels: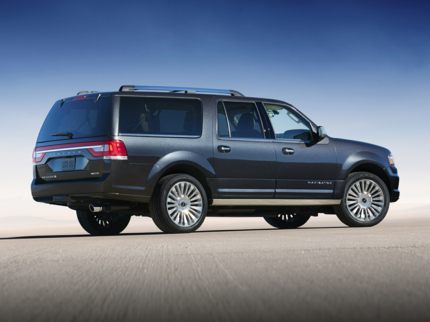 Among the few individuals options are a rear entertainment system with dual screens, a sunroof and different wheel finishes.
CarsDirect Tip
The Reserve package weighs the price of the Navigator L more than we would like, but it's the only route to the Lincoln Drive Control system, which allows you to tweak how the vehicle responds to your inputs. We recommend test driving the L in both trim levels before deciding whether the upgrade is worth it to you.
Choose your Lincoln Navigator L »