The newest member of the Mercedes-Benz S-Class, the S550e brings never-before efficiency to the brand's flagship line. All the luxury and prestige you expect comes standard, along with the ability to make short trips without using a drop of gas.
What's New for 2015
The S550e is a new model based on the existing S-Class sedan.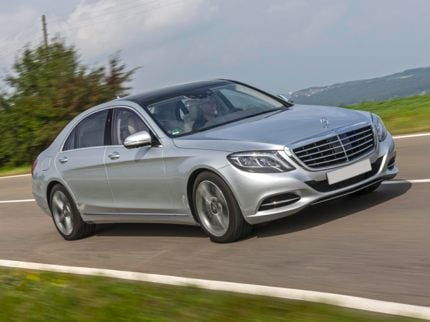 Choosing Your Mercedes-Benz S550e
The rear-drive S550e features a turbocharged 3-liter V6 engine and electric motor that together produce 436 horsepower. Its seven-speed automatic transmission and adjustable air suspension are shared with other S-Class models.
With the onboard lithium-ion battery fully charged, the big cruiser can run on electricity alone for the first 20 miles. After that, it operates on a combination of gas and electricity, just like a conventional hybrid. Expect about 21 mpg around town and 26 mpg on the highway in full hybrid mode.
Recharging a fully depleted battery takes about 3 hours on a standard household outlet, or 2 hours on a 240-volt charging station. Theoretically, buyers who make only short trips with sufficient charging time in-between will enjoy gas-free driving indefinitely, although very few of us have those habits.
Surprisingly, the S550e is priced the same as the regular S550, which carries a gasoline V8. While the Plug-In isn't quite as powerful, it can hit 60 mph in 5.2 seconds, which makes it a fast luxury sedan by our measure.
Aside from its powertrain, the Plug-In is pure S-Class, which means you get standard indulgences like a cabin fragrance system, heated wiper blades, automatic soft-close doors, and a panoramic sunroof. The 13-speaker Burmester surround-sound system comes with 10GB of audio storage and Internet radio. As expected, there's a vast array of leathers, woods, and color schemes to choose from.
The popular Premium package ($4,500) adds rear parking sensors, an automated parallel parking system, keyless ignition, power rear window shades, a hands-free power trunk lid, and multicontour front seats with ventilation and massage. The Driver Assistance Package gets you a full suite of active safety technology, including adaptive cruise control with automatic braking and accelerating, for $2,800. There's also a $2,600 Warmth and Comfort package with power heated rear seats, a heated steering wheel, and heated armrests. For even greater ride comfort, you can add Magic Body Control ($4,450), which uses a front-mounted camera to evaluate upcoming road surfaces and adjust the suspension accordingly.
We're continuously amazed by the array of rear-seat amenities available on the S-Class sedan, including seatbelt airbags, extra seat adjustments, a refrigerated compartment, power foot rests, and a center console with foldout tables and heated and cooled cupholders.
CarsDirect Tip
The Magic Body Control suspension is one of our favorite S-Class options, and we're glad to see it available on the new S550e. The high-tech setup does a marvelous job of isolating passengers from even the slightest road imperfections.
Get your price on a Mercedes-Benz S550e »