The Mercedes-Benz SL-Class has always been a benchmark of open-air luxury motoring. As good as that sounds to most of us, buyers who worship at the altar of performance need an SL they can love too. Enter the SL63 AMG with its turbocharged V8 and full complement of racing-inspired hardware.
What's New for 2015
Last year's higher-output engine is now standard, and a contrasting design package debuts.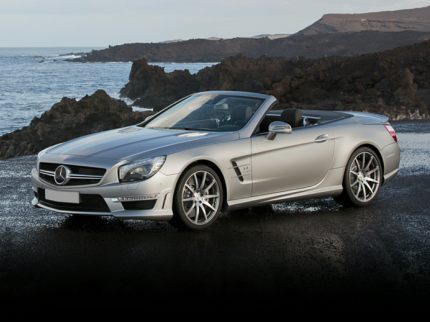 Choosing Your Mercedes-Benz SL63 AMG
Under the 63 AMG's mile-long hood you'll find a turbocharged 5.5-liter V8 that lays down 577 horsepower and 644 pound-feet of torque. All that thrust is funneled through a specially programmed seven-speed automatic transmission. Compared to the standard SL, the 63 AMG carries larger brakes and more aggressive suspension tuning, plus 19-inch wheels, a sport exhaust system, and special gauges and displays. The sprint from zero to 60 mph passes in just 4.1 seconds.
The 63 AMG comes out of the gate with ventilated and massaging seats covered in sun-reflective Nappa leather, a neck-level warming system, a nine-speaker Harman Kardon surround-sound system and an automated parking system. Some options are shared with non-AMG models, including soft-close doors, infrared night vision, a 13-speaker Bang & Olufsen sound system, a split-view infotainment display and a Driver Assistance package with adaptive cruise control and active collision avoidance systems. The standard power hard top with panoramic glass panel can get an electric tinting feature known as Magic Sky Control. You have a choice of carbon fiber, aluminum or wood trim on the inside.
There are a handful of AMG-specific package as well. The AMG Performance Media display provides a range of performance data such as track results, g-forces and real-time engine output. With the Exterior Carbon Fiber package, the lower front fascia, mirror housings and spoiler are constructed of weight-saving carbon fiber.
New this year is the High Contrast Styling package, which adds a black-painted roof, gloss black body components and unique wheels -- 19-inch in front and 20-inch at the rear. You get more of the gloss black treatment inside, offset by Platinum White leather seats.
CarsDirect Tip
Since the glass roof panel does not have a manual cover, the Magic Sky Control feature is rather essential for top-up motoring. If you intend to take your 63 AMG to the track or are just a techno-geek, the Performance Media system at $2,500 is money well spent.
Choose your Mercedes-Benz SL63 AMG »