The Nissan Leaf has been hailed as the car that took the concept of an all-electric vehicle from a car-show attraction to a functional everyday driver. That was in 2011. Now entering its fifth year, the Leaf continues to gain in popularity.
As a four-door hatchback, the Leaf is designed to seat five, although it's much more comfortable with only four. And while its range between charges is limited to about 84 miles, that's plenty to cover a short commute and around-town errand running.
What's New For 2015
Nissan has added a more aggressive regenerative braking system to the base-level S trim, which now joins the other two trims with this feature. For the SV and SL trims, voice-to-text messaging and a navigation system are now standard, as are 17-inch wheels for the SV trim.
Choosing Your Nissan Leaf
This all-electric car offers the same motor and power source for all trims: an 80kW electric motor powered by a 24kWh rechargeable lithium-ion battery. Together, they produce 107 horsepower and offer a range of about 84 miles per charge, depending on such factors as traffic and your particular driving style.
However, two chargers are available. What Nissan refers to as the normal 3.6kW charger is standard for the S trim, while a 6.6kw charger is standard with the SV and SL trims. A quick-charge port that substantially speeds up charging times is standard with the SL trim and available for the S and SV.
The three trim levels -- S, SV and SL -- provide buyers with a choice of standard features and option packages: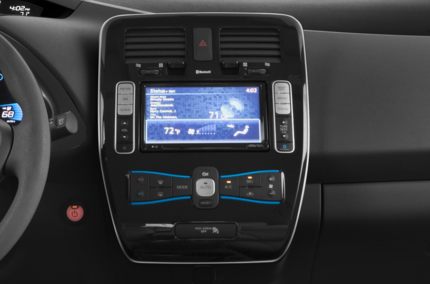 CarsDirect Tip
In choosing your Leaf model, you should consider how the different chargers and ports will affect your lifestyle and driving capabilities. Charging with a basic household 120-volt outlet can take 15 hours or more, but adding a 240-volt charging system to your garage will cost upwards of $1,000, depending on whether you can install it yourself or if you need professional installation. Other cost factors may include permit fees for adding a 240-volt line. You may, however, be able to include the home-charger costs in your Leaf purchase price.