America's favorite car, the Toyota Camry has kept to traditional family sedan values even as it tries to get with the times. While it may be trying to up its style factor amid a whole line of capable competition, the Camry majors on refinement and space, which is what most buyers looking for midsize sedans really want.
What's New for 2015
For 2015, the Toyota Camry gets a heavy revision just three years after this generation debuted. Toyota says every exterior panel, save for the roof, is new, with a much more aggressive front clip on every model. There have been suspension changes on all models, with additional structural improvements to make the body more rigid. Finally, a new XSE model is now the sportiest Camry you can buy.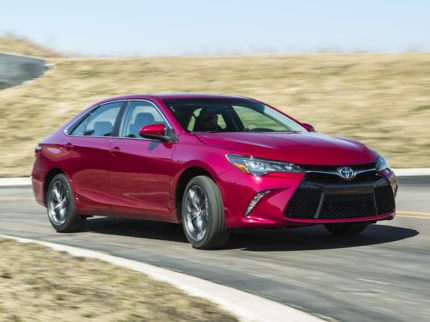 Choosing your Toyota Camry
The Camry range is largely split into two camps: normal and sport. LE and XLE models major on comfort and refinement and are the traditional models, while SE and XSE try to go after those who want just a dollop of fun and nothing more. Two engines are available: a 2.5-liter four with 178 horsepower and EPA ratings of 25 city and 35 highway. The 3.5-liter V6 offers 268 horsepower with 21/31 fuel economy. All Camrys are powered through the front wheels by a six-speed automatic.
CarsDirect Tip
Frankly, the SE and XSE models still can't hold a candle to sportier models in this segment like the Accord, Fusion and Mazda6. Camrys make more sense in their traditional format, which now offers better body control and response without spoiling the refinement. LE is the most popular trim for good reasons, though an XLE with its V6 power is a bit of a sleeper.