Although the 330e is an all-new plug-in hybrid model, introduced for 2016, it's a successor to BMW's AciveHybrid3, which debuted in 2013. Along with models like the full-size 740e, the new 330e is a significant step toward offering a plug-in hybrid version of almost every BMW model. Anyone looking for a hybrid or a plug-in has plenty to choose from nowadays, but not many deliver the BMW 3 Series brand of handling excellence, along with their fuel-efficiency figures.
What's New for 2016
A brand-new model for 2016, the 330e iPerformance has a new drive system, combining a 2-liter twin-turbocharged gas engine with an electric motor. The rear-wheel-drive 330e can be driven like a conventional hybrid automobile, or plugged into an electric outlet periodically to bring the battery up to full charge.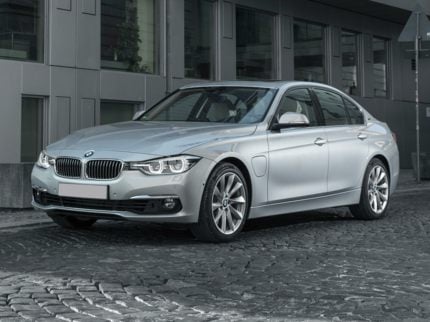 Choosing Your BMW 330e
Under the hood, a 2-liter, direct-injected TwinPower Turbo four-cylinder gasoline engine makes 180 horsepower and 215 pound-feet of torque. The gas engine works in tandem with an 87-horsepower electric motor and a 7.6 kWh (gross) lithium-ion battery. Combined system output totals 248 horsepower, along with 310 pound-feet of torque. The lithium-ion battery pack produces 293 volts and is mounted flat, in an especially crash-safe position under the load floor.
Electronic elements are derived directly from BMW eDrive technology, as used in the i3 and i8 models. An electronic boost function is permanently enabled. The electric motor supplements the gas engine with 74 pound-feet of torque; but it can deliver brief additional boost of up to 184 pound-feet, depending on the position of the accelerator pedal.
BMW claims the 330e iPerformance sedan can accelerate from a standstill to 60 mph in as little as 5.9 seconds. The 330e can operate for about 14 miles in all-electric mode, at speeds up to 75 mph.
BMW's eight-speed automatic transmission features Steptronic manual gear selection. Driving Dynamics Control uses a console switch to select Eco Pro, Comfort, Sport, or available Sport+ mode. Drivers may choose from three eDrive-specific programs: Auto eDrive (the default), Max eDrive (electric-only), and Save Battery.
Fuel economy is estimated by the EPA at 31 mpg overall (city/highway) when using the gas engine alone, and 72 MPGe (equivalent) when both elements of the plug-in hybrid system are operating. When plugged into a Level II 240-volt charger, full recharging of a depleted battery takes 2.5 hours. At 120 volts, charging requires 6 to 7 hours.
A Proactive Driving Assistant uses the navigation system to access real-time data, so the system can identify specific segments of the intended route where electric drive would be preferable to use of the gasoline engine. When an uphill stretch lies ahead, the Assistant may prepare to use electric energy, so recuperative braking can be employed on the subsequent downhill section.
Standard equipment is similar to other 3 Series models, including automatic climate control, start/stop function, paddle shifters, auto-dimming mirrors, power front seats, wood interior trim, LED foglamps, and 17-inch run-flat tires. Active-safety features are available in Driver Assistance packages. Options even include an adaptive M suspension in an M Sport Package.
CarsDirect Tip
Priced at $44,695, the 330e costs $6,450 less than the departed ActiveHybrid 3. That puts the 330e in a position just above the least-costly full-electric BMW i3, which starts at $43,395. Like other plug-in hybrid models, the 330e iPerformance qualifies for incentives from the federal government as well as certain state or local agencies.
Get your price on a BMW 330e »