Serving as the unofficial poster car for plug-in hybrid performance, the BMW i8 eDrive 2+2 coupe makes a dramatic statement with its power and style, while achieving exceptional efficiency. Topping the list of visionary vehicles from BMW, the i8 was purpose-built from the ground up as a hybrid-electric model. Although we expect a truly high-end sports car to be memorable in a variety of ways, the i8 takes individuality and sheer technological impact to delightful new levels.
What's New for 2016
Laser Lights are available as an option for the first time in the U.S. Otherwise, the i8 is unchanged for 2016.
Choosing Your BMW i8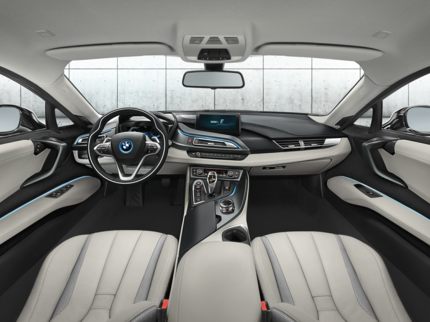 It's simply a fact, not an exaggeration, to say the exotic-bodied i8 looks like nothing else on the road. Constructed primarily from lightweight carbon fiber, the i8 carries a huge hood scoop, all-LED lighting, and a high-tech interpretation of the classic BMW grille. Perhaps most striking of all are its scissor-style doors, which open out and upward. Inside are recycled materials, more LED lighting, naturally-treated leather and individual rear seats, making it possible (though not practical) to carry four passengers, at least in a pinch.
The i8 is powered by a 1.5-liter 228-horsepower three-cylinder gasoline engine, working with an electric motor. Together, they produce 357 horsepower and 420 pound-feet of torque. What makes the i8 most interesting is its configuration: the gas engine powers the rear wheels through a six-speed automatic transmission, while the electric motor delivers its energy to the front wheels through a two-speed automatic. Therefore, the i8 boasts two distinct powerplants, two transmissions, and all-wheel drive. The results of this exotic setup seem almost too good to be true: zero to 60 mph acceleration in 4.2 seconds, a top speed of 155 mph, and equivalent EPA-rated efficiency of 76 MPGe combined.
Because it's a plug-in hybrid, the i8 can travel up to 22 miles and hit 75 mph on electric power alone. After the lithium-ion battery pack is depleted, the i8 runs on a combination of gas and electricity, just like a conventional hybrid. A full recharge takes 3.5 hours on a standard household outlet, or 1.5 hours at a 240-volt charging station. While underway, you can select from four driving modes: eDrive, Eco Pro, Comfort, and Sport.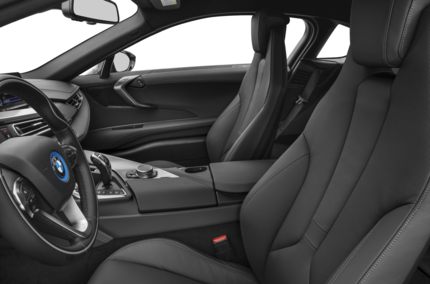 Both performance and efficiency of the i8 benefit from its lightweight construction, including aluminum subframes, a carbon fiber chassis, and chemically hardened glass. Lightweight 20-inch alloy wheels are used on all versions.
Each i8 is packed with comfort and safety technology, including a color head-up display, 8.8-inch iDrive screen, surround-view cameras, parking sensors, LED headlights, and a collision mitigation system with pedestrian detection. The navigation system features 3-D mapping with real-time traffic and weather data. Audiophiles will appreciate the 11-speaker, 360-watt Harman Kardon surround-sound system, with 20GB of music storage.
The i8 comes in a choice of three Worlds (BMW's term for trim levels) that differ only in upholstery materials and wheel design:
Mega: Included at no extra charge, Mega World includes grey leather seats with cloth inserts. W-spoke alloy wheels hold 20-inch tires.
Giga: Carries full perforated leather seating in ivory or black.
Terra: Mixes brown perforated leather with matching cloth and contrasting blue seatbelts. Turbine-style alloy wheels hold 20-inch tires.
CarsDirect Tip
For a price like $141,695 (including destination charge), you expect the finest in plug-in hybrid technology and style, and you get it. Opting for the special touches in the Giga and Terra Worlds adds $2,000 and $4,500 to the sticker, respectively -- not particularly large sums for this price class, but all you get is different upholstery. Optional Laser Lights cost an additional $6,300, if you lean toward going all the way with your i8.