Our Take: 2016 Chevrolet Silverado 1500
The Chevrolet Silverado 1500 is a major force to reckon with in the scope of what the American truck industry offers. For 2016, the Silverado gets revised front end styling featuring LED lighting, a re-sculpted grill, and a slightly updated infotainment system. Retaining its rugged and get-the-job-done attitude, the 2016 Silverado 1500 continues as one of the most sought-after trucks in the world.
Pricing and Equipment
The 2016 Chevrolet Silverado 1500 has many available configurations and trims. Within the subset of its Regular Cab, Double Cab and Crew Cab, The Silverado can be had in as many as six trim levels, three bed lengths, and three cab styles: Regular, Double and Crew.
Pricing starts at $27,000 for the base Regular Cab WT trim and goes up from there, reaching a high point of $48,315 for the top-trimmed Silverado 1500 Crew Cab High Country, which offers a plethora of standard features and available amenities, such as the following:
Eight-speed automatic transmission with the optional 6.2-liter V8 engine
Climate controlled front seats
Perforated Leather seating surfaces
Eight-inch infotainment touchscreen with Bluetooth Smartphone integration and Apple CarPlay/Android Auto
LED headlights, foglights and taillights
Twenty-inch alloy wheels
Heavy-duty locking rear differential
Power-folding rearview mirrors
OnStar with 4G LTE WiFi connectivity
Performance Pros
The 2016 Chevrolet Silverado 1500 is equipped with a standard 4.3-liter V6 engine that produces 285 horsepower and 305 pound-feet of torque for all trims except the LTZ and High Country, which start with a more powerful 5.3-liter V8 engine with 355 horsepower and 383 pound-feet of torque. The LTZ and High Country Silverado 1500s can also get a 6.2-liter V8 with 420 horsepower and 460 pound-feet of torque mated to an eight-speed automatic transmission.
Fuel economy for the 5.3-liter comes to an EPA-estimated 16 mpg city and 23 mpg highway for the rear-wheel drive configuration. The added power of the 6.2-liter brings that figure down slightly to 15 mpg city and 21 mpg highway, yet provides additional towing power and acceleration. Moreover, the top trimmed Silverado 1500 with the optional 6.2-liter V8 engine reaches 60 mph in just 5.9 seconds, in addition to having the following performance pros:
Remarkable towing capacity up to 12,000 pounds with Max Trailering package.
Quick acceleration.
High payload capacity for the 5.30liter V8 at up to 2,260 pounds.
Respectable EPA fuel consumption numbers for the 4.3-liter V6 and 5.3-liter V8.
Performance Cons
Smaller 4.3-liter V6 engine has a modest towing capacity.
Unwanted vibrations and suspension jiggle on the Silverado 1500 equipped with large 20-inch wheels.
Abundant body roll and lean going into sharp turns at speed.
Interior Pros
Luxurious cabin with spacious and comfortable leather seating areas in the higher-level Silverado 1500 trims.
Quick-responding and user-friendly infotainment system fed through either a 7- or 8-inch touchscreen.
An array of high-demand amenities and luxury features made available on mid-level and upper trims.
Interior Cons
Bench seating lacks lateral support and is less comfortable on long hauls.
Hot air can be felt by rear passengers through the backing vents for the front seats' ventilation system.
The Most Pleasant Surprise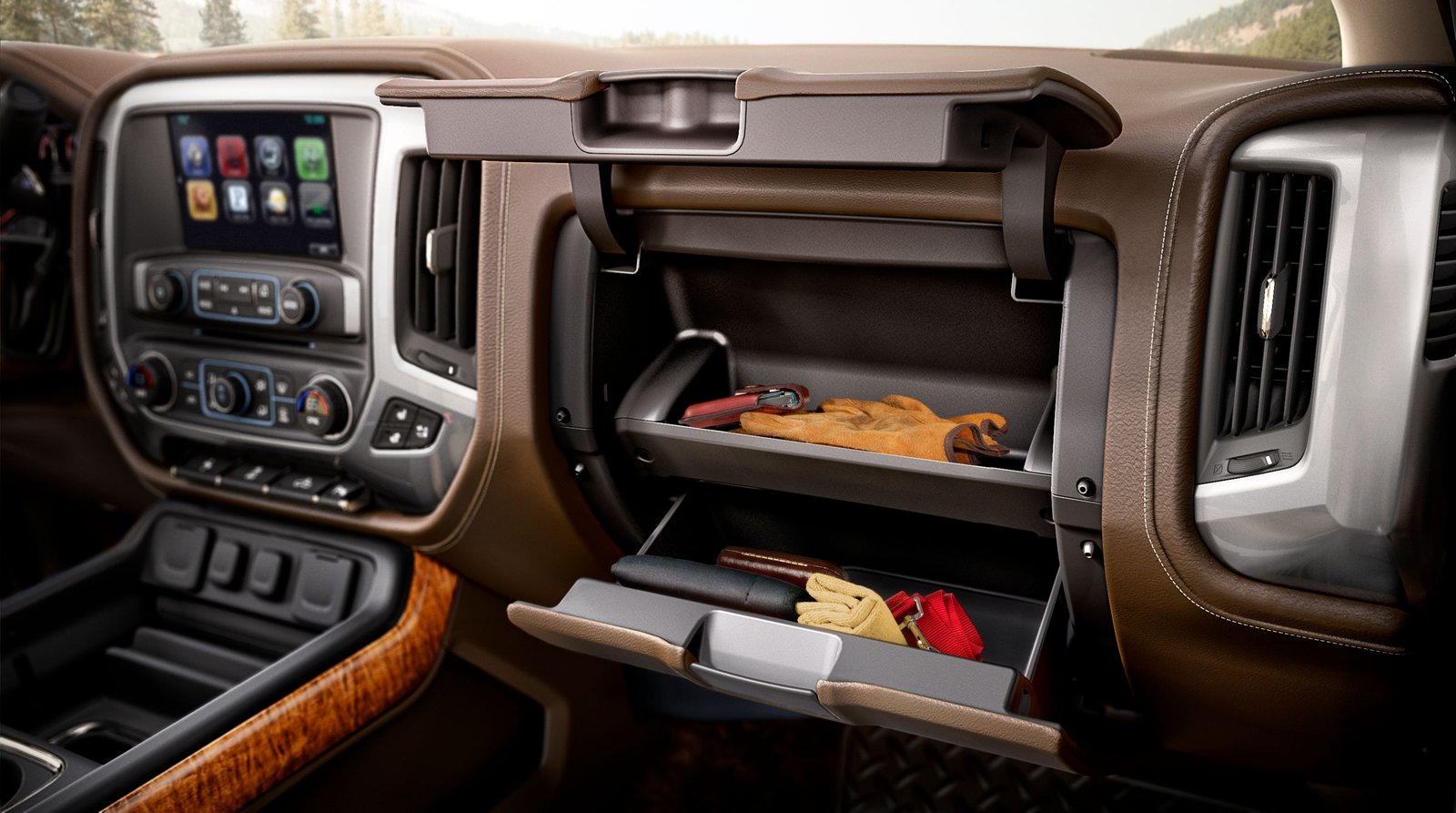 The comfort and luxurious appeal of the new Silverado 1500 combined with its workhorse attitude in the 5.3-liter and 6.2-liter V8 engine's ample power output puts it into a category of serving multiple purposes. In many ways, the Silverado 1500 can be your only vehicle—comfortable and quiet enough for family traveling yet rugged enough for the most discerning blue-collar down-and-dirty work.
The Least Pleasant Surprise
The lack of handling ability when making moderate-to-sharp turns. The more the Silverado 1500 is pushed laterally, the less it pushes back leaving the stability and traction control systems to work overtime to keep things safe when faced with wet roads in 2WD mode.
The Bottom Line
The 2016 Chevrolet Silverado 1500 is the best yet, offering many amenities and luxury appointments you expect to find only on luxury sedans. The dual character of the 2016 Chevrolet Silverado 1500 also places it in higher value perspective where its top-trimmed and fully-loaded Silverado 1500 LTZ or High Country pricing is justified.
Buying With CarsDirect
We have partnered with trusted dealers in your area to give you a great price on the new Chevrolet Silverado 1500.
This is how it works:
We connect you to the Internet Department at a Trusted Dealership.
Use the CarsDirect Target Price as a tool in your negotiation.
The dealer will help you with financing or leasing, as well as trade-in options.
Insider Information
We have information you must know before you buy the Silverado 1500.
We want to send it to you, along with other pricing insights.
Your Email
Submit
We will not spam you, and will never sell your email. You may unsubscribe at any time.
Thank you. You are now subscribed to our Pricing Insider updates.