Even more than its solid-roof sibling, the drop-top 500c version of Fiat's retro minicar revels in gently rolling Italianesque styling, mixed with a surplus of cheery personality. All versions of the two-door Fiat 500 radiate joy and delight, as did the original Italian-made 500 back in the late 1950s. On today's roads, the turbocharged Abarth is particularly fun to drive. Even the entry-level version is more enjoyable and spirited on the road than you might think, as long as your expectations are realistic.
What's New for 2016
Most Fiat 500 models now feature a Uconnect 5.0 system with a 5-inch touchscreen radio, Bluetooth connectivity, and integrated voice command. An Easy trim level is now available, just above the base (Pop) model.
Choosing Your Fiat 500c
Unlike every other convertible on the market, the Fiat 500c cabriolet has fixed roof pillars and side window frames. In a configuration that harks back to European minicars of the Fifties and Sixties, the fabric roof folds down behind the rear seat, opening the entire passenger compartment to the sky.
The standard 1.4-liter four-cylinder engine produces 101 horsepower, and can be paired with either a five-speed manual or six-speed automatic transmission. The Abarth model gets a turbocharged version of the 1.4-liter, whipping up 160 horsepower and 183 pound-feet of torque, for dramatically improved performance. Fuel economy of the standard-engine 500c is estimated at 31 mpg in city driving and 40 mpg on the highway, with manual shift. Automatic drops the estimate to 27/34 mpg. Abarth gas mileage is less thrifty, at 28/34 mpg (city/highway) with manual shift and 24/32 mpg with automatic.
The 500c is available in five trim levels: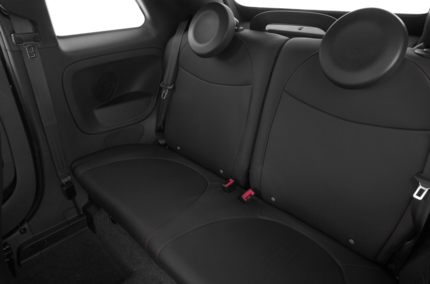 CarsDirect Tip
Charming and welcoming as they are, the Pop and Lounge admittedly fall short on serious performance. For plenty of buyers, that's not a demerit at all. They're wholly content with a more relaxed brand of driving joy. Rather than feeling underpowered, they savor the lilliputian soft-top's nimble agility and eager spirit. On the other hand, if the mere thought of a 101-horsepower engine makes you shiver, you'll be much happier with the more powerful Abarth.
Get your price on a Fiat 500c »