Our Take: 2016 FIAT 500L
Fiat captured the eyes and hearts of many a microcar fancier when the revived 500 coupe and cabriolet debuted for 2012. Few cars looked so cheerful, lively and cute, while handling so nimbly. Then, to attract families, the larger, taller four-door 500L wagon emerged as a 2014 model.
Pricing and Equipment
Starting at $19,495 in Easy trim, the 500L comes in four step-up trim levels. My 500L experience has focused on the Trekking edition, which has an MSRP of $21,880.
Fiat's turbocharged 1.4-liter four-cylinder engine develops 160 horsepower. Two transmissions are available: six-speed manual, and six-speed automatic. (Last year's six-speed automated-manual transmission is no longer available.) Fuel economy with manual shift is estimated at up to 25 mpg in city driving and 33 mpg on the highway. With automatic, the estimate is 22/30 mpg city/highway.
Standard equipment in the Trekking edition of the 500L includes:
Air conditioning
Uconnect multimedia
Leather-wrapped steering wheel
Cruise Control
Driver's knee airbag; front seat-mounted airbags
Remote keyless entry
17-inch aluminum wheels
Foglamps
Fender flares
Performance Pros
When accelerating from lower speeds, the automatic transmission may kick down a gear or two and response is brisk. If downshifting fails to occur, performance barely qualifies as anemic, held back by that sluggish automatic.
Manual-shift acceleration is adequate if you're in the best gear for the moment; otherwise, it can be a bit puny.
A nice tall lever operates the manual gearbox, which shifts easily enough; but underneath, it feels on the clunky side.
Performance Cons
Acceleration is nothing to shout about, marred by an automatic transmission that can slide sloppily between gears. Engine speed drops way down in the process, then has to be prodded back up again.
Unlike the two-door Fiat 500 coupe and cabrio, which are sheer joy to drive, the 500L falls way short in the fun department. Handling is unabashedly humdrum.
Starting off smoothly with manual shift isn't so easy.
Interior Pros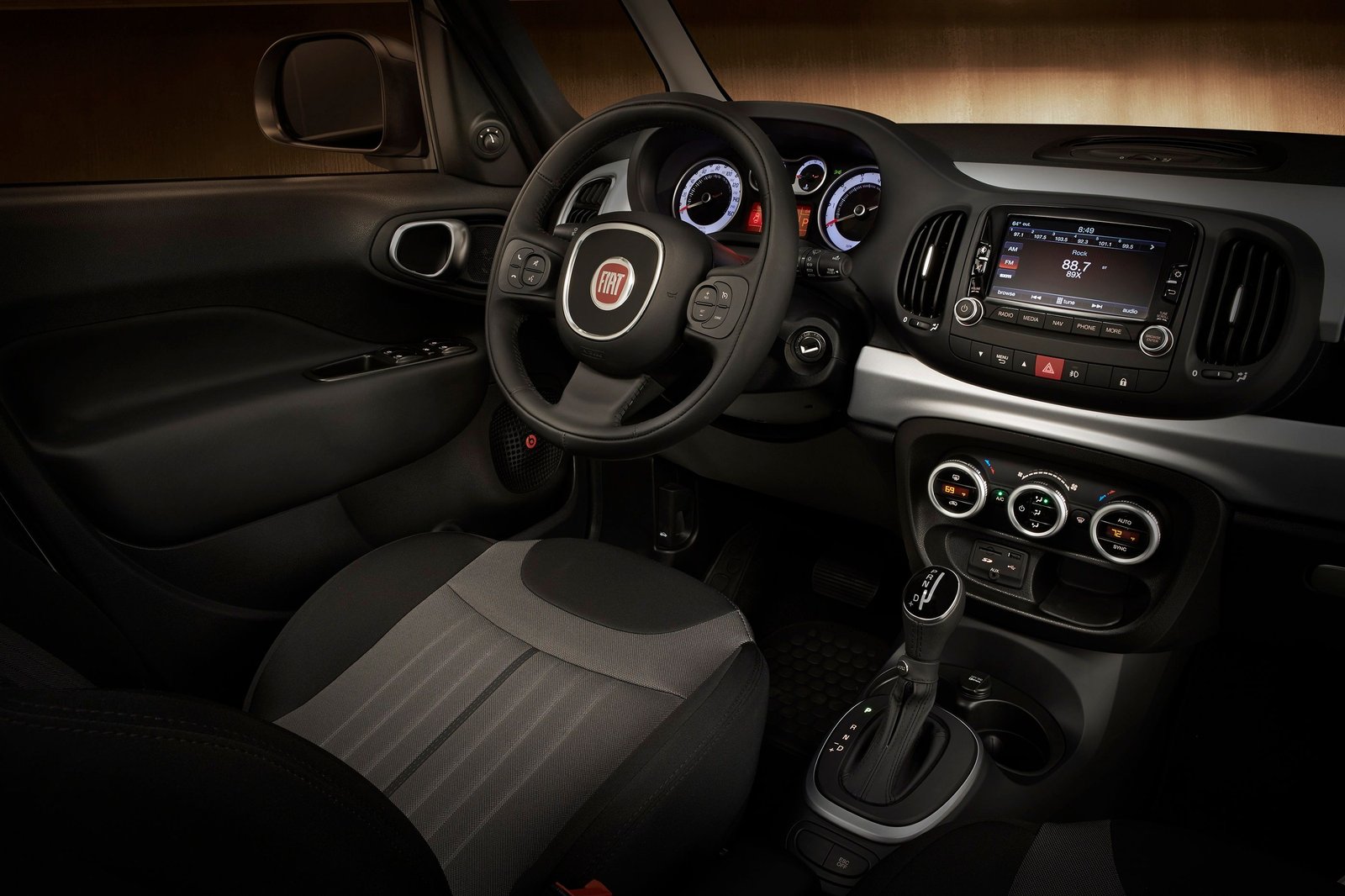 Visibility is top-notch. Even the front quarter windows, far bigger than most, actually provide enhanced visibility, almost qualifying as a safety feature.
Cargo space is vast for a car of this size. Getting inside is a snap, and passengers sit tall for great views.
Apart from headroom, the back seat is roomy. Most notably, the center rear position is no worse than the outboard seats, which is a rarity these days.
Interior Cons
Headroom is huge up front, but limited in the back.
Front seats are comfortable enough, but short on side bolstering. Seat bottoms could be longer, too.
Instruments are stylish, but not so easily readable.
The Most Pleasant Surprise
Size. That's an easy one to answer. Anyone who's tried to squeeze into the back seat of a Fiat 500 coupe or cabriolet might be tempted by this variant with plenty of elbow room.
The Least Pleasant Surprise
How can two versions of a vehicle be so completely different, as if they hailed from different planets? The two-door Fiat 500 is my favorite car. After test-driving one, I invariably regret having to give it back. Following trials in the four-door 500L, I could hardly wait to get rid of it.
The Bottom Line
Obviously, a fair number of folks disagree with my acerbic appraisal of the 500L, which finds the four-door nearly devoid of Fiat character and charm. Several 500Ls were even used to transport Pope Francis during his U.S. visit. Sales haven't been brisk by any means, but the 500L's spacious interior evidently attracts buyers who might otherwise opt for a compact crossover.
Buying With CarsDirect
We have partnered with trusted dealers in your area to give you a great price on the new FIAT 500L.
This is how it works:
We connect you to the Internet Department at a Trusted Dealership.
Use the CarsDirect Target Price as a tool in your negotiation.
The dealer will help you with financing or leasing, as well as trade-in options.