Our Take: 2016 Ford Flex
When Ford launched the defiantly big and boxy Flex as a 2009 model, the company claimed that it "dares to be different." At a time when curves counted, the Flex was all straight edges. Having changed little, the three-row Flex is still one of the most distinctive crossover vehicles around. Sales have been slow, but buyers can expect comfort as well as practicality, augmented by surprisingly enjoyable driving characteristics.
Pricing and Equipment
Starting at $29,600 (plus destination charge) for an entry-level SE model, the Flex also is available in SEL and Limited trim. The standard 3.5-liter V6 engine makes 287 horsepower, while a 365-horsepower twin-turbo EcoBoost V6 is available in the Limited edition. Both engines mate with a six-speed automatic transmission. For 2016, a Sync 3 infotainment interface is used in upper trim levels.
Our test-drive report features the Flex SEL.
Standard Flex SEL equipment includes:
Rearview camera
Dual-zone automatic climate control
Heated power front seats
Keyless entry and pushbutton start
Sync 3 infotainment interface
Reverse sensors
Eighteen-inch wheels
SEL options include all-wheel drive, leather upholstery, blind-spot monitoring, adjustable pedals, DVD entertainment, and a trailer-tow package.
Performance Pros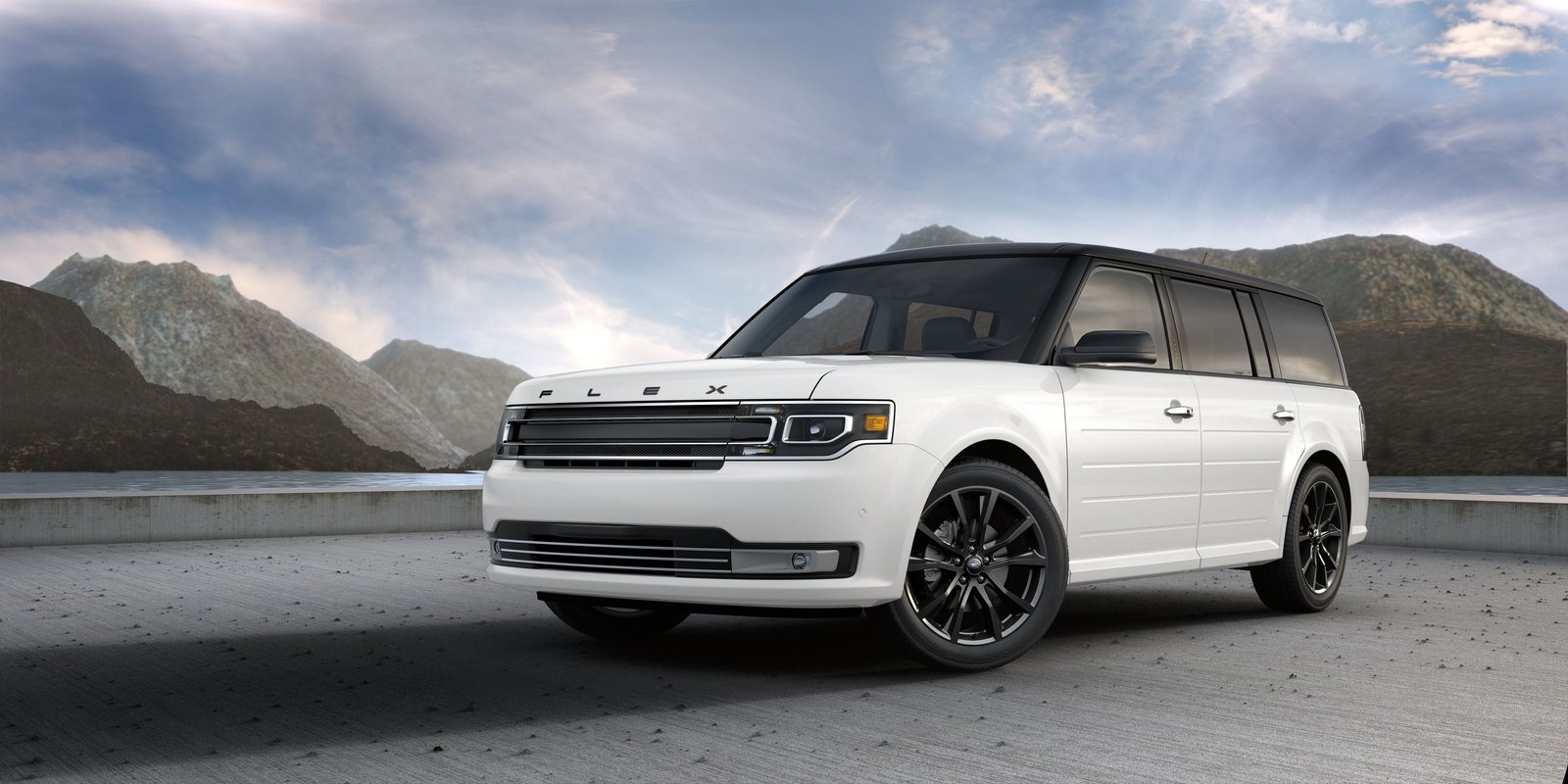 Response from the twin-turbo EcoBoost 3.5-liter V6, with its 365 horsepower, is simply stunning, while earning EPA fuel-economy estimates of only 15/21 mpg (city/highway).
Ride comfort scores high, as the Flex suspension absorbs most trouble spots. In addition, a Flex handles quite well, more like a smaller wagon than a crossover or SUV.
Quiet running and smooth engine response melds with barely noticeable automatic-transmission shifts. All-wheel drive is available, though only for the two upper trim levels.
Performance Cons
Abundant dimensions inevitably affect maneuverability, including parking ease. Determining just where the wheels are takes a certain amount of guesswork.
Fuel economy leans toward the dismal side, regardless of engine.
Interior Pros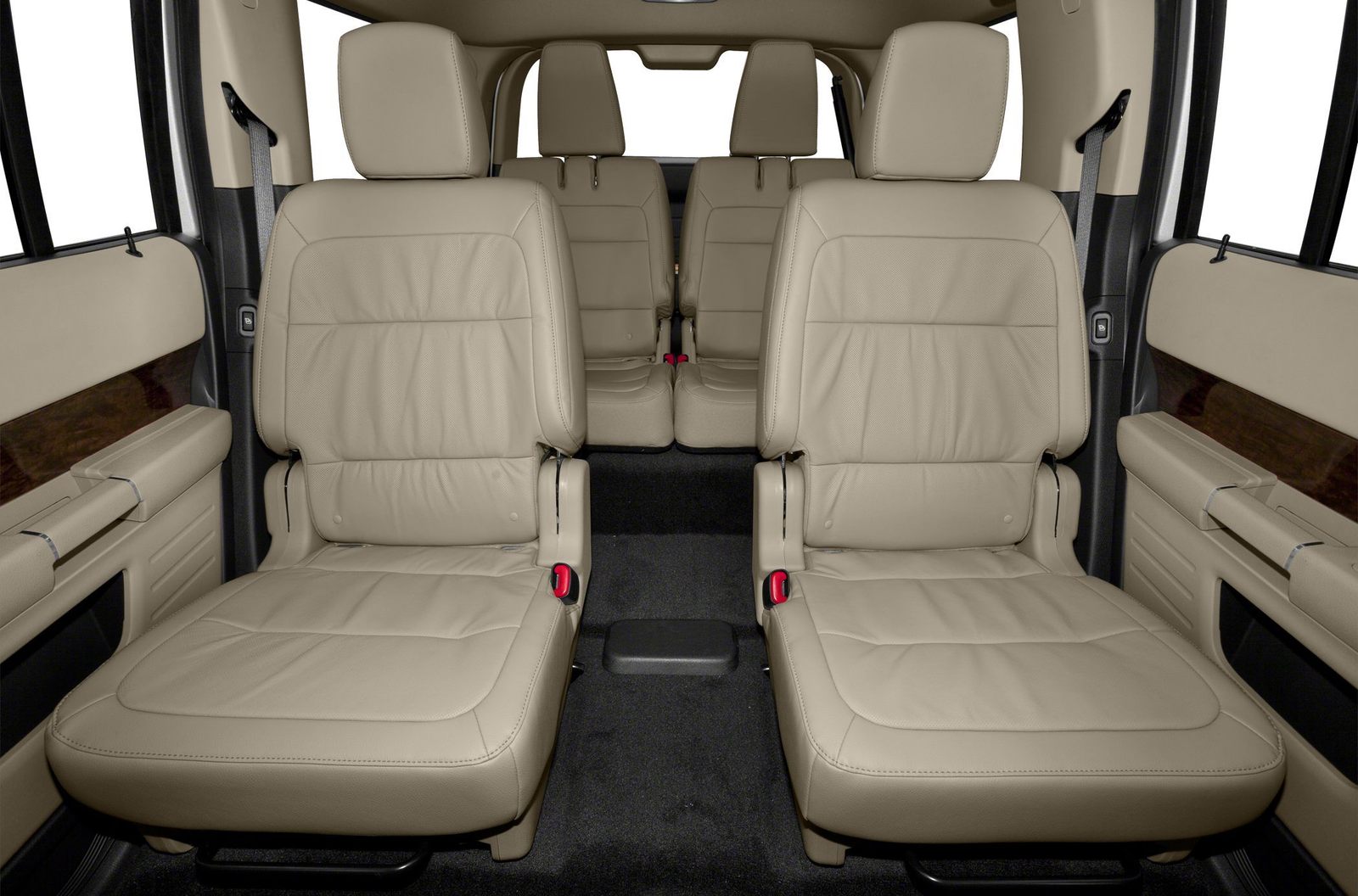 Front headroom ranks as massive. Head space is also huge in row two, and seats actually feel more comfortable in the back than up front. Even the center rear position, though low-set, isn't bad.
The low cowl provides a fine view of the road ahead.
Not many vehicles exhibit such a practical and sensible interior layout, giving all six or seven occupants a sense of airness.
Interior Cons
Short driver's seat bottoms aren't exactly rarities nowadays, but the one in the Flex is shorter than most—odd, isn't it, for such a large vehicle?
Instruments are surprisingly small. So is the central video screen, for that matter.
Lax seat bolstering could almost allow a passenger to slide past the barrier, if a leather-upholstered Flex were driven over-aggressively through curves or corners.
Upper trim levels have switched to the contemporary Sync 3 infotainment interface, but the oft-criticized MyFord Touch (now called MyFord) still goes into the SE dashboard.
The Most Pleasant Surprise
Space. That's right: just plain, simple interior space, whether used mainly for passengers or luggage. On that score alone, a Flex is hard to beat.
The Least Pleasant Surprise
Being big and boxy has its drawbacks, especially when you're trying to park in a normal-size space. May as well expect to be a frequent customers at the local gas station, too. Even if you select the base engine and front-drive, the EPA estimate is a mere 16 mpg in city driving and 23 mpg on the highway.
The Bottom Line
Because the standard 287-horsepower Flex engine responds with surprising strength, paying a hefty premium for a Limited with the twin-turbo V6 is utterly unnecessary. Best choice is the midlevel SEL, which can be fitted with all-wheel drive—invariably a wise choice for owners in the snowbelt.
Buying With CarsDirect
We have partnered with trusted dealers in your area to give you a great price on the new Ford Flex.
This is how it works:
We connect you to the Internet Department at a Trusted Dealership.
Use the CarsDirect Target Price as a tool in your negotiation.
The dealer will help you with financing or leasing, as well as trade-in options.
Insider Information
We have information you must know before you buy the Flex.
We want to send it to you, along with other pricing insights.
Your Email
Submit
We will not spam you, and will never sell your email. You may unsubscribe at any time.
Thank you. You are now subscribed to our Pricing Insider updates.