Last year, Ford's iconic sports car got a full makeover for the first time in a decade. In addition to acquiring a sleeker profile, the popular rear-drive ponycar gained two new engines, along with a host of engineering and cosmetic alterations. As usual, Ford offers the Mustang in a broad selection of configurations at a variety of prices, cementing its reputation as an affordable four-seater.
What's New for 2016
Only minor updates are evident. In a nod to Mustang heritage, GT models add secondary turn signals integrated into the hood vents. New color choices include racing stripes and a black roof panel. All-new SYNC 3 has conversational voice recognition, a smartphone-like touchscreen, and intuitive graphical interface. New option groups include Black Accent, California Special, and Pony packages.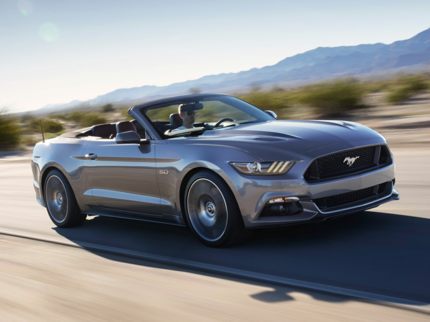 Choosing Your Ford Mustang
Selecting the most suitable Mustang has never been an easy task, and begins with a choice between a hardtop coupe and a fabric-roof convertible. Next comes a selection from three engine possibilities:
The base 3.7-liter V6 produces 300 horsepower and 280 pound-feet of torque, with estimated fuel economy of 19 mpg city and 28 mpg highway (17/28 mpg with manual shift).
The mid-level engine is the 2.3-liter EcoBoost four-cylinder, which makes 310 horsepower and 320 pound-feet of torque. Gas mileage is estimated at 22/31 mpg with manual and 21/32 mpg with automatic.
Engine number three, for GT editions, is the 5-liter V8, redesigned last year and generating 435 horsepower and 400 pound-feet of torque. As expected, the V8 is less thrifty at 15/26 mpg (city/highway) with manual, or 16/25 mpg with automatic.
A six-speed manual transmission is standard with any engine, while a six-speed automatic is optional.
The six-cylinder comes with a single trim level, but the four-cylinder and eight-cylinder also offer Premium variants: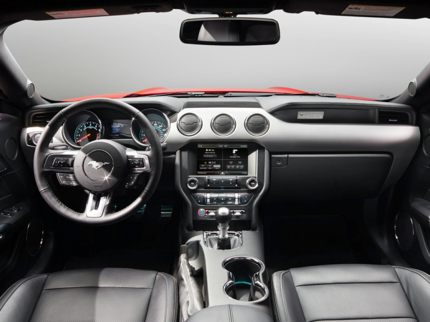 CarsDirect Tip
With prices starting above $24,000, it's not quite true that "everyone" can afford a Mustang. Unless you're wedded to the "classic" configuration of a V8 Mustang, either the V6 or the more modern EcoBoost four might be a more prudent choice. The four-cylinder has become quite a popular item lately, in performance-oriented cars as well as family sedans. Gas mileage is better, while acceleration is nearly comparable to recent V8s.
Get your price on a Ford Mustang »
Read our review on the Ford Mustang »