The Elantra has earned its popularity by providing dramatic styling, near-luxury-car refinement and an impressive features list at very reasonable purchase and ownership costs.
What's New for 2016
Hyundai took a good look at their marketing data and did some updating of the Elantra's trim levels, adding one in the process. The new Value Edition features an impressive list of owner-pleasing upgrades at a checkbook-pleasing price. Elantra Limited models gain standard keyless entry with pushbutton start and dual-zone climate controls, while the Sport loses the standard sunroof, leather seats, and $1350 from its MSRP.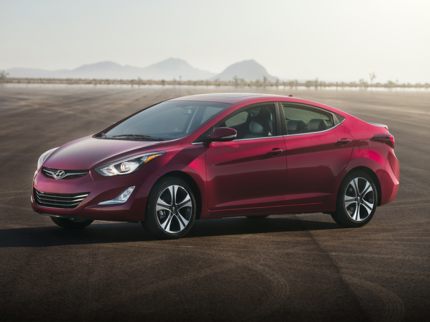 Choosing Your Hyundai Elantra
All Elantras are four-door sedans with four-cylinder engines powering the front wheels through six-speed transmissions. (The Elantra GT hatchback is a different car save for the name and a few mechanical parts, and is covered in a separate article.)
In terms of size and purchase price the Elantra is an economy sedan, but don't tell that to the designers who created the distinctive swooping sheet metal and exceptionally well-crafted interior, or the engineers who tuned the Elantra to provide such a calm, easy driving experience. If you need a way to get around -- or away from -- your hectic and noisy life, the Elantra provides an affordable and practical oasis.
The Elantra is available in four trim levels:
CarsDirect Tip
If you can live without the manual transmission on the one hand and leather seats on the other, the Value Edition more than lives up to its name. For most Elantra buyers it will be the ideal split between price and features.
Get your price on a Hyundai Elantra »
Read our review on the Hyundai Elantra »