Our Take: 2016 Hyundai Elantra
Hyundai's affordable compact combines modern styling, standard features that belie the price tag, and excellent fuel economy to create a viable contender in a highly competitive segment.
Pricing and Equipment
The 2016 Hyundai Elantra is available in four trim levels. The base SE model, powered by Hyundai's 145-hp 1.8-liter inline four-cylinder engine and six-speed manual transmission starts at $17,250. The aptly name six-speed automatic equipped "Value Edition" begins at $19,700. The $20,250 Sport boasts a 173-hp 2-liter inline four-cylinder engine, six-speed manual transmission, and sport tuned steering and suspension. The Limited, with its standard 17-inch wheels and six-speed automatic transmission, starts at $21,700.
Hyundai does an excellent job grouping feature sets that are free from unwanted cost killing extras, creating maximum value for the price. Optional packages include:
The $900 Popular Equipment Package for SE models comes with extras like 16-inch alloy wheels, a driver's blind spot mirror, a 4.3-inch color touchscreen audio display, Bluetooth with voice recognition, and automatic headlights.
The $1,800 Tech Package for Sport models includes an easy-to-use navigation system with 7-inch screen, a great sounding 360-watt premium audio with external amplifier and a power tilt-and-slide sunroof. Also included in the package is Hyundai's Blue Link Telematics System and Blue Link Connected Care.
The $1,800 Ultimate Package for Limited also includes the navigation system with 7-inch screen including Pandora (iOS only), 360-watt premium audio with external amplifier, and a power tilt-and-slide sunroof.
Performance Pros
Hyundai's current line-up excels at offering above-average price-to-performance ratios, and the 2016 Elantra is no exception. While the standard 145-horsepower 1.8-liter four-cylinder engine and six-speed manual transmission won't win many drag races, the combination is more than adequate for most daily driving situations and offers above average fuel economy.
The base Elantra SE is rated at an efficient 27 mpg city, 37 mpg highway, and 31 mpg combined. By adding the available six-speed automatic, those numbers increase one mile per gallon across the board.
Performance Cons
While handling and braking are good, the overall ride quality lacks the refinement and comfort often expected in today's highly competitive compact car market.
Those looking for a bit more punch, meanwhile, will enjoy the larger engine found in the Sport model. Though the added zip decreases fuel mileage dramatically to 24 mpg city, 34 mpg highway and 28 mpg combined, and the larger wheels add even more harshness to the ride.
Interior Pros
Somehow Hyundai figured out how to stuff a midsize sedan's cabin into a compact car. The 2016 Elantra feels big inside because it is. The comfortable seats and seating positions add to the thoughtfully designed and ergonomic interior, which is relatively quiet and generously equipped, even in base form. The use of hard touch plastics certainly takes away from the overall sensation of luxury, but for the most part they are limited and tastefully implemented.
The 14.8 cubic-foot trunk provides enough cargo space for a family of four to embark on a summer road trip without having to share bags.
Interior Cons
The 4.3-inch color touchscreen audio display with rearview camera -- standard in all trims except the SE -- is too tiny to be a useful end-game product. I would opt for the 7-inch navigation system with high-resolution display, which unfortunately is only available in the Sport and Limited models.
The Most Pleasant Surprise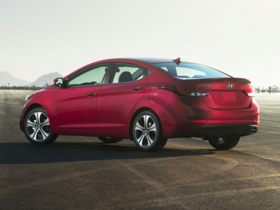 I am still taken by Hyundai's fluidic design. When the latest generation of the Elantra arrived on the scene in 2011 as a 2012 model, it took the automotive industry by storm. The aggressive futuristic styling made the Elantra a standout in a year of new compact models. While other manufacturers have worked to catch up, the Elantra's lines have remained relevant even five model years later.
The Least Pleasant Surprise
The base 1.8-liter engine sacrifices acceleration for efficiency, and while the Sport model adds a few ponies and ups the fun factor a smidge, driving enthusiasts will still find the package unappealing.
The Bottom Line
The 2016 Elantra continues to follow Hyundai's recent formula for success; offer a good-looking well-equipped car for an affordable price, throw in a 5-year, 60,000-mile "new vehicle" limited warranty and a 10-year 100,000-mile limited powertrain warranty, and arrive at a final product that is tough to beat. That said, now well into its fifth generation, the 2012 North American Car of the Year winner is starting to show some of its age and is probably close to needing a refresh.
Buying With CarsDirect
We have partnered with trusted dealers in your area to give you a great price on the new Hyundai Elantra.
This is how it works:
We connect you to the Internet Department at a Trusted Dealership.
Use the CarsDirect Target Price as a tool in your negotiation.
The dealer will help you with financing or leasing, as well as trade-in options.
Insider Information
We have information you must know before you buy the Elantra.
We want to send it to you, along with other pricing insights.
Your Email
Submit
We will not spam you, and will never sell your email. You may unsubscribe at any time.
Thank you. You are now subscribed to our Pricing Insider updates.