Our Take: 2016 Hyundai Veloster
The Hyundai Veloster has grown a lot over the years, as it went from a sluggish hatch to a peppy semi-hot-hatch with its Turbo and Turbo R-Spec trims. For 2016, the Veloster lineup is more complete than ever, but it is far from a perfect car for most buyers.
Pricing and Equipment
For a sporty hatchback, the 2016 Veloster is actually surprisingly inexpensive with a starting MSRP of just $18,000. At this base price, the Veloster also comes pretty well equipped with standard features like:
17-inch alloy wheels
Center-mounted exhaust
Premium cloth upholstery
Six-speaker audio system with AM/FM/SiriusXM/MP3 capabilities and a 7-inch touchscreen
For buyers looking for more features and enhanced performance, there are three other trims: Turbo R-Spec ($21,600), Turbo ($22,600), and Turbo Rally Edition ($23,950).
Performance Pros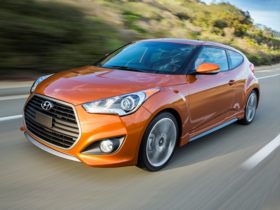 The Turbo models are pretty respectable for the class, thanks to their extra power. Additionally, the R-Spec model has some added chassis tweaks that deliver a sportier drive, though it is not a significant improvement over the Turbo model.
The 201-horsepower turbocharged engine drops the 0-to-60 mph sprint to less than seven seconds
The R-Spec's stiff suspension gives the Veloster excellent feel
Performance Cons
The Veloster lack oomph with a base 1.6-liter engine that always leaves us wanting more.
The electric steering system is also problematic -- too light on the base model and too heavy on the Turbo
A rough ride is the trade-off for a performance-oriented suspension on the R-Spec
Interior Pros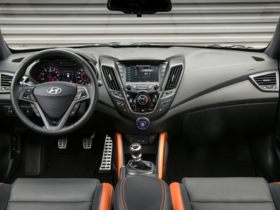 Hyundai looked to motorcycles for design inspiration and fitted the Veloster with an innovate saddle-like center console and air vents that resemble end pipes. The Blue Link telematics system is standard. And there's decent cargo space when the rear seats are folded.
Interior Cons
Aside from the motorcycle-inspired design elements, the rest of the interior is a little blah
Forget about cramming adults in the rear seat -- headroom and legroom are short in supply
The Most Pleasant Surprise
For what is essentially a compact hatchback, the Veloster impresses us with a breadth of standard and optional features.
The Least Pleasant Surprise
Comfort is not the Veloster's strong point, particularly for the folks in the rear seats. What's more, the ride can be a little harsh and there's significant wind noise at highway speeds.
The Bottom Line
The Veloster is ideal for compact hatchback shoppers who value style and performance over utility.
Buying With CarsDirect
We have partnered with trusted dealers in your area to give you a great price on the new Hyundai Veloster.
This is how it works:
We connect you to the Internet Department at a Trusted Dealership.
Use the CarsDirect Target Price as a tool in your negotiation.
The dealer will help you with financing or leasing, as well as trade-in options.
Insider Information
We have information you must know before you buy the Veloster.
We want to send it to you, along with other pricing insights.
Your Email
Submit
We will not spam you, and will never sell your email. You may unsubscribe at any time.
Thank you. You are now subscribed to our Pricing Insider updates.