Unlike typical compact and midsize premium sedans, the Q50 from Nissan's luxury division comes across as surprisingly sporty. That's also true for the Hybrid version, which substitutes a gasoline/electric powertrain for a conventional gas engine. While delivering more frugal fuel economy, performance from the Q50 Hybrid is essentially on par with the regular Q50, which gets a new pair of gasoline engines for 2016.
What's New for 2016
Although the regular Q50 has switched from all-V6 power to a choice of four-cylinder or twin-turbo V6 engines, the Q50 Hybrid carries on with the same powertrain as before. Like the gas-engine Q50, the Hybrid benefits from improvements to the steering and suspension systems, as well as newly available advanced-safety features.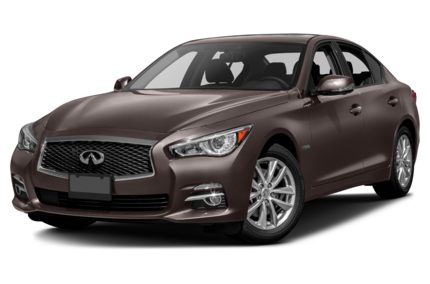 Choosing Your INFINITI Q50 Hybrid
In the Hybrid system, a 3.5-liter V6 gasoline engine works in conjunction with a 50-kW electric motor, hooked to a lithium-ion battery pack. Combined system output is 360 horsepower. Operating with dual clutch control, the gas V6 generates 302 horsepower and 258 pound-feet of torque, while the electric motor is rated at 67 horsepower and 214 pound-feet. That's sufficient to propel the Q50 Hybrid from zero to 60 mph in as little as a startling 4.9 seconds, according to INFINITI. A seven-speed automatic transmission with Sport mode and downshift rev-matching sends that energy to the rear wheels or, optionally, to all four wheels.
Fuel economy is estimated at 28 mpg around town and 34 mpg on the highway (27/31 mpg with all-wheel drive). Many hybrid passenger cars yield better gas mileage, but few (if any) of those models come close to the Q50's performance potential. Premium-grade gasoline is required.
Direct Adaptive Steering, INFINITI's steer-by-wire system, has been upgraded to provide better feedback from the pavement, and can be customized in accord with driver preferences.
All Q50 Hybrids now come in Premium trim; the previous S edition is gone.
CarsDirect Tip
Compared to the new turbocharged four-cylinder engine available for the regular Q50, buying a Q50 Hybrid improves estimated gas mileage by a modest 4 mpg in combined (city/highway) driving. You're getting a V6, true, but paying a lot more for the Hybrid powertrain. City fuel economy drops by only 1 mpg when you add all-wheel drive, which can be a big help in regions with inclement winter weather. But the highway figure sinks by 3 mpg, chipping away at the Q50's fuel-efficiency status. For an additional $1,850, the Technology package adds a valuable group of modern active-safety systems.
Get your price on an INFINITI Q50 Hybrid »