Kia's midsize Optima has earned a growing number of kudos for its European-style good looks and value among other family sedans. The Optima Hybrid ties those laudable virtues to a gasoline/electric hybrid powertrain, resulting in some of the best fuel economy figures for a car of this size. If you're seeking value in both purchase price and driving costs, consider the Optima Hybrid as a near-perfect combination of style and sensibility.
What's new for 2016
Although the regular gasoline-engine Optima has been redesigned, growing slightly but changing little in appearance, the Hybrid sedan is a carryover from the previous (third) generation.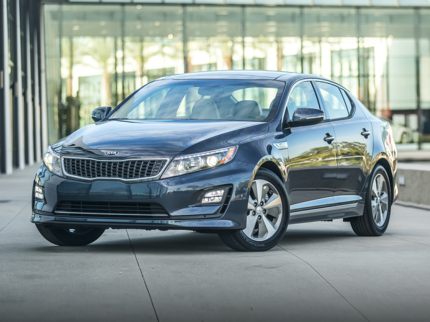 Choosing Your Kia Optima Hybrid
Each Optima Hybrid comes with the same powertrain. A 2.4-liter four-cylinder gasoline engine works with a 47-horsepower electric motor and a 47 kW lithium polymer battery to produce a combined 199 horsepower and 235 pound-feet of torque. The hybrid powertrain is mated to a six-speed automatic transmission. This setup achieves fuel economy estimates of up to 36 mpg city and 40 mpg highway for a combined 38 mpg, according to the EPA.
Several unique exterior elements enhance the Hybrid's aerodynamics, as well as giving it a distinctive appearance, starting with a black/chrome grille and sporty lower bumpers. Additional vents on the front bumper increase airflow. Low-rolling-resistance tires ride on 16- or 17-inch alloy wheels. A "virtual engine" sound system and an Eco switch are included.
Buyers choose from two trim levels, Base and EX, with significantly different equipment levels:
CarsDirect Tip
If your principal goal is economy, may as well stick with the base model. The EX offers some pleasant features, including more safety technology, but isn't the best value considering the hefty additional cost.
Get your price on a Kia Optima Hybrid »