Our Take: 2016 Kia Optima
For 2016, to Kia Optima gets an evolutionary redesign that takes the already successful look of the sedan and freshens it up a bit. This redesign gives the Optima a slightly larger footprint and a swoopier design that makes it just a bit bolder looking than previous years. Also included is a new, fuel-saving engine.
With this redesign, is the Optima still a great alternative to the Camry and Accord? Check out our review to find out what we think of it.
Pricing and Equipment
As a midsize sedan, there are a lot of boxes the 2016 Optima needs to check in order to be successful. It needs to be roomy, have ample power, look stylish, and remain affordable. The latter is certainly something that the Optima does well, as its base LX trim starts from $21,840. At this price, the 2016 Optima is pretty well equipped, as it comes standard with:
Tilt-and-telescoping steering wheel
Six-speajer audio system
Rearview camera
Power mirrors
Automatic headlights
If you're looking for even more premium features, there are four other trims to choose from. The LX 1.6T starts from $23,990, the EX bases from $24,890, the SX starts at $29,690, and the fully equipped SX Limited starts from $35,790.
Performance Pros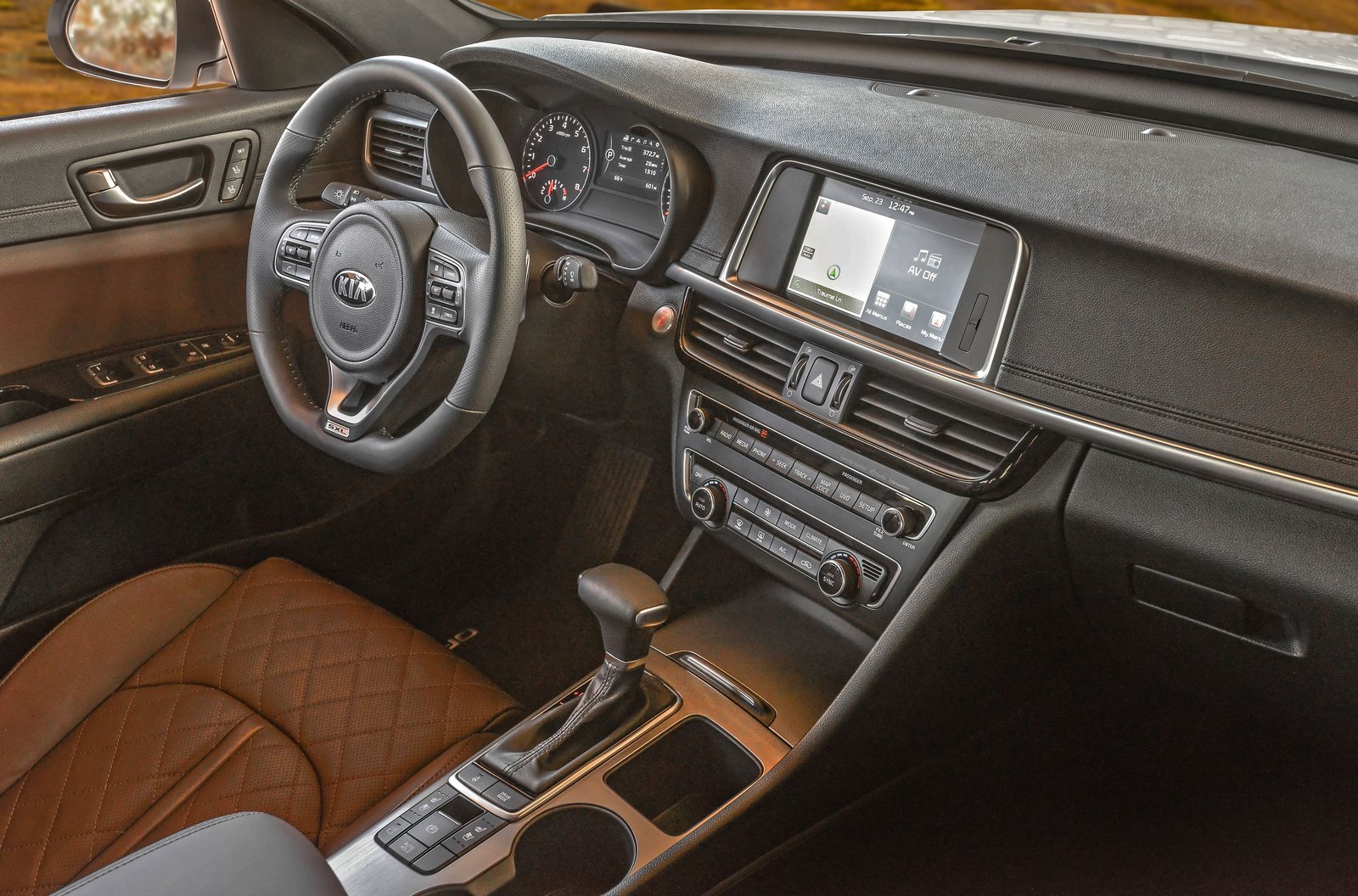 The optional 2-liter turbocharged four-cylinder engine is a great dance partner in this midsize sedan, despite being down on power from last year. The 2016 Optima's suspension is also perfectly tuned.
245-horsepower four-cylinder is plenty potent.
Chassis delivers good handling, while also giving plenty of give over the rough stuff.
Low-rpm torque is plentiful.
39 mpg highway with 1.6T engine.
Performance Cons
The two smaller-displacement four-cylinder engines are a little wheezy for our liking, even the 1.6-liter turbo. We also found the dual-clutch transmission that comes with the 1.6T engine to be a little finicky in low-speed situations.
1.6-liter seems to struggle when pushed hard for extended periods.
Base four-cylinder needs to wound out.
Dual-clutch transmission is downright frustrating when navigating a parking lot.
Interior Pros
The 2016 Optima is by far one of the best-equipped sedans for the money, as even its base LX trim has tons of great features. What's more, the cabin feels roomier than ever with the redesign.
Corners of the dash are moved outward for a larger feel.
Plenty of value in the cabin, particularly in the mid-range trim levels.
Large trunk with big opening.
Interior Cons
The Optima's cabin is great, so it is hard to find many faults. If we have to pick one, however, we would say that it's the fact that the rear seat, while larger than before, is not as comfortable as other models in its class -- especially for folks who are any taller than six feet.
The Most Pleasant Surprise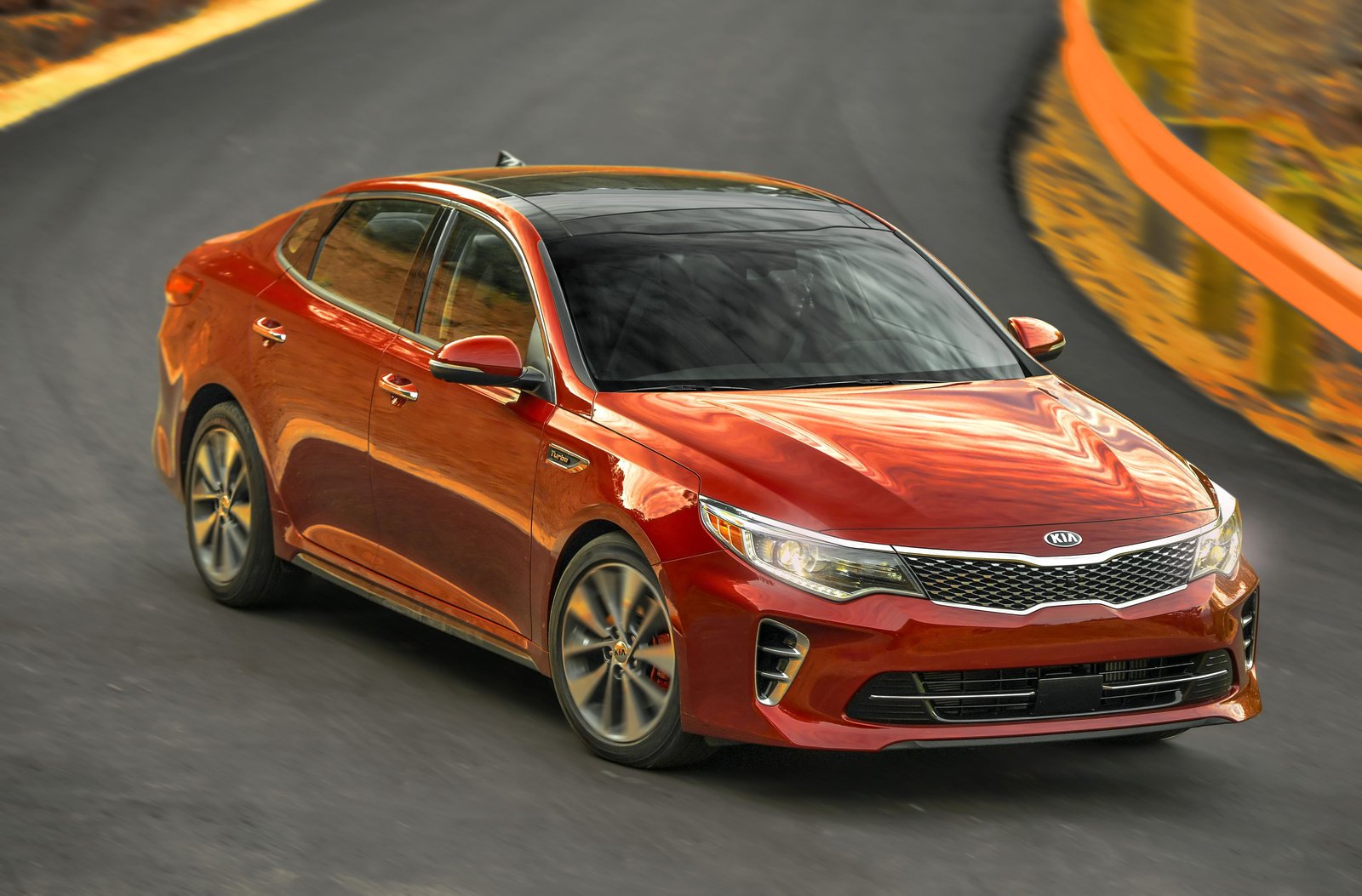 The features that the 2016 Optima comes with are incredible for its class. All the way from the base LX to the top-of-the-line SX Limited, there is lots of value. Looking at the $37,000 price tag affixed to the range-topping SX Limited may be eye-watering at first, but we suggest comparing its feature list to a comparably priced luxury sedan. You'll be quite pleased to learn that the Optima's list is on par or better.
The Least Pleasant Surprise
We wanted to love the 1.6T engine, we really did, but it made that hard to do. Sure, it has ample power for short spurts, but when driving through mountains or when passing a long line of cars, it felt like it gave up at some point. Additionally, its standard dual-clutch transmission is not friendly in parking lots.
The Bottom Line
It has a few flaws here and there, but all in all, the 2016 Kia Optima is a great option for midsize sedan shoppers. It has a range of engines that fits all needs, its looks are stylish and modern, and it is an outstanding value.
Buying With CarsDirect
We have partnered with trusted dealers in your area to give you a great price on the new Kia Optima.
This is how it works:
We connect you to the Internet Department at a Trusted Dealership.
Use the CarsDirect Target Price as a tool in your negotiation.
The dealer will help you with financing or leasing, as well as trade-in options.
Insider Information
We have information you must know before you buy the Optima.
We want to send it to you, along with other pricing insights.
Your Email
Submit
We will not spam you, and will never sell your email. You may unsubscribe at any time.
Thank you. You are now subscribed to our Pricing Insider updates.