The GX 460 takes traditional Lexus refinement and technology as far off-road as possible. The tasteful luxury and faultless assembly expected of the upscale brand rides on a platform capable of serious cross-terrain duty.
What's New for 2016
The GX 460 receives the new Lexus Enform system, a vehicle diagnostic and remote-management app that monitors maintenance and includes stop/start and climate-control adjustment functions. Otherwise the GX 460 makes its heavy-duty way into 2016 essentially unchanged.
Choosing Your Lexus GX 460
Underneath its flawless paint and luxurious interior the GX 460 is an old-school SUV: body-on-frame construction, V8 power, and four-wheel drive with a low-range transfer gear to provide rock-crawling capabilities well beyond what one would expect of something wearing a Lexus badge.
All GX 460s are powered by a 4.6-liter V8 that sends 301 horsepower and 329 pound-feet of torque to the wheels through a six-speed automatic transmission and a computer-managed four-wheel drive system featuring a Torsen center differential. Vehicle control is enhanced by Crawl Control, which modulates throttle and brakes over steep terrain, and a trick Kinetic Dynamic Suspension System (KDSS) that allows for both excellent on-road stability and maximum off-road wheel travel.
While the suspension is capably managing everything underneath it and the driveline is moving the whole works onward, the GX 460's occupants are treated to a standard Lexus interior: high-quality materials, exceptional fit and finish, carefully considered design, and seamless comfort.
The GX 460 is available in three trim levels: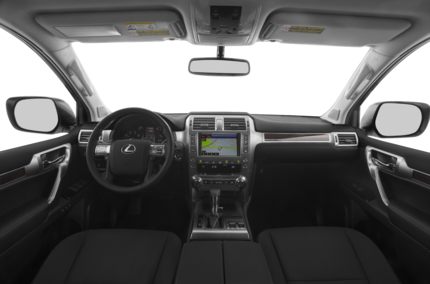 CarsDirect Tip
Unless you require all available electronic systems or your hunting dogs insist on the maximum ride comfort of the Luxury's air suspension, the Premium brings the upscale dress and features at an agreeable price.
Get your price on a Lexus GX 460 »
Read our review on the Lexus GX 460 »