Maserati's big beautiful two-door remains one of the most desirable automobiles on the road. What it gives up in ultimate tech and absolute speed to some of its rivals it more than gets back in sensory gratification and high style.
What's New for 2016
As the company moves on to its 101st birthday, last year's Centennial editions will be phased out. Otherwise there are no changes to the GranTurismos.
Choosing Your Maserati GranTurismo
Maserati's Pininfarina-designed 2+2 is available as either a coupe or a fabric-topped convertible with a pleasantly spacious pair of rear seats. A Ferrari-designed 4.7-liter V8 sends power (445 horsepower in the standard GranTurismo convertible, 454 in all others) through a six-speed automatic transmission to the 20-inch rear wheels and a glorious snarl of an exhaust note through the pipes to the rear tips.
Coupes are available in either Sport or MC trim. The Sport starts at $132,825; the MC, with its carbon-fiber hood and racier detailing, stickers at $150,570. For the convertibles, there is an additional base level GranTurismo with an MSRP of $145,740. The Sport and MC levels are repeated here, although the MC convertible forgoes the hood scoop of its coupe sibling; base prices are $150,465 and $161,070, respectively.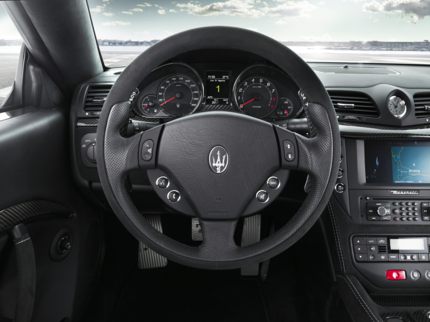 In any of these cases the base price is exactly that: a base. Most GranTurismos are built to order much like tailored clothing, a process which takes several months and invites the purchaser to be fully invested, both emotionally and financially, in creating an individualized machine. Available choices in the matter revolve around paint and leather for the exquisitely crafted interior, interesting wheel options, and a handful of interior dress considerations.
Regardless of trim level or roof architecture, the emphasis with the GranTurismo is on classically-minded high-speed high-style travel. Maserati all but intentionally forgoes much of the heavy tech content that too often describes the modern luxury car -- there are no semiautonomous driving systems, no 360-degree cameras, no massaging seats. Instead, the GranTurismo offers an exceptionally responsive and refined motor, a chassis that balances sheer road-going capability with classical feel, a profound sense of solidity and material quality, and an attitude of style and panache wonderfully at odds with an often ponderous and self-serious competition.
CarsDirect Tip
The MC cars, especially the Coupe, suffer slightly from inelegant and unnecessary hints of boy-racer around the edges. The Sport models deliver all the speed without sacrificing class or grace.
Get your price on a Maserati GranTurismo »