Our Take: 2016 Mazda CX-3
Mazda'a all-new CX-3 is attractive inside and out and an absolute blast to drive, offering plenty of zoom zoom, but not a lot of room room.
Pricing and Equipment
The five-door 2016 Mazda CX-3 is available in three trim levels. All CX-3 models are powered by a 146-horsepower 2-liter inline four-cylinder engine and a six-speed automatic transmission. Front-wheel drive is standard and all three trim levels can be configured with an optional all-wheel drive system.
The base CX-3 Sport, which includes 16-inch alloy wheels, starts at $19,960. The Sport AWD (all-wheel drive) starts at $21,210.
The CX-3 Touring adds keyless entry, leatherette-trimmed seats (heated in the front), blind spot monitors and more. Prices start at $ 21,960; adding all-wheel drive raises the price to $21,960.
The top-tier CX-3 Grand Touring ups the interior's luxury factor and adds a touch of sportiness to the exterior. Featuring 18-inch alloy wheels, leather-trimmed seats, a BOSE 7-speaker audio system, a moonroof and much more, Grand Touring pricing begins at $24,990. The all-wheel drive model starts at $26,240.
Prices do not include an $880 destination charge.
Performance Pros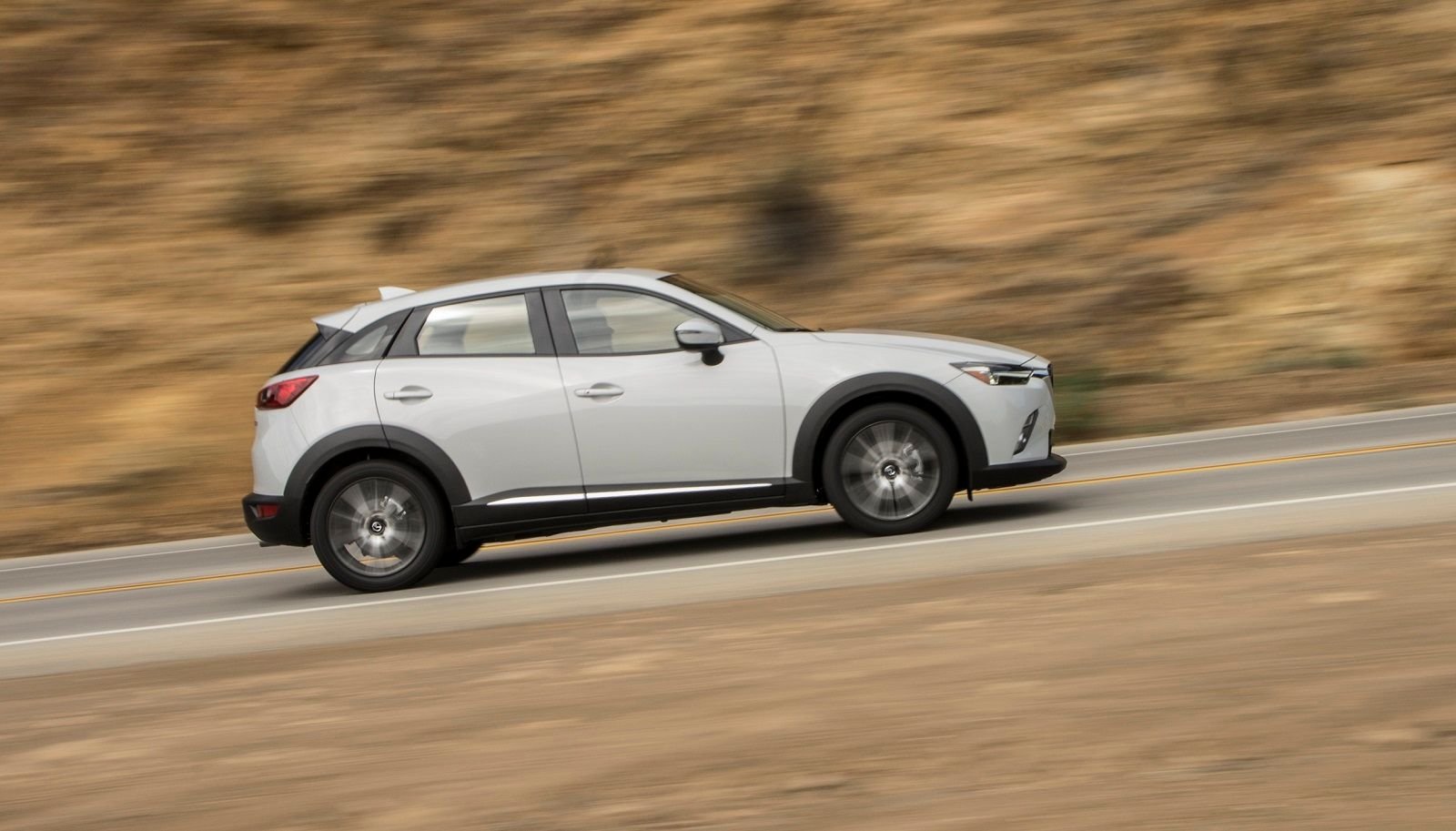 I am not sure if the folks at Mazda use a different horsepower standard than other car companies, but after spending a little time behind the wheel, the CX-3's horsepower and torque ratings actually seem understated. Pulling onto highway entrance ramps takes place with ease and passing is a breeze. Many comparable crossovers, with better performance numbers on paper, feel sluggish in a direct comparison. Mazda's famous Zoom Zoom slogan is rather fitting.
The steering is precise and accurate thanks to Mazda's electric power assist steering.
The suspension is firm enough to pleasantly surprise driving enthusiasts, but comfortable to the point that the CX-3 makes a great daily driver. Mazda has found a nice balance between driving excitement and ride comfort.
Braking is more than adequate; in many ways the CX-3 is a driver's crossover, if there is a such a thing.
Gas mileage is excellent. Front-wheel drive models earn a respectable 29 mpg city and 35 mpg highway. All-wheel drive adds stability in the weather, but takes away a little economy with 27 mpg city and 32 mpg highway -- still quite excellent considering just how fun and sporty the CX-3 is to drive.
Performance Cons
The CX-3 builds power as it revs through the gears. Unfortunately, it is a bit noisy -- and not in the good way -- while doing it.
Interior Pros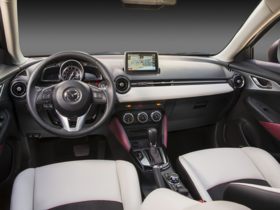 I had heard great things about Mazda's new interiors, but until I was able to spend a week with the top-trim Grand Touring model, I truly did not believe all the hype. To my surprise, the CX-3's interior shares a great deal in common with many crossovers costing almost twice the price.
Yes, there are still ample hard-touch plastic surfaces and small compromises throughout the cabin that you won't find in the best examples from companies like Lexus and Acura, but I found myself making more comparisons to those brilliant (and brilliantly expensive) crossovers. I even joked that the CX-3's interior "evoqued" memories of a Range Rover that I recently reviewed.
The CX-3's seats are nicely bolstered and comfortable for longer trips. The instrumentation is thoughtfully designed and everything is easily within arms reach. The infotainment system, especially the 7-speaker BOSE unit in the Gran Touring, is simple to use and sounds great. The fuel economy computer programs work well at helping you learn how to drive the CX-3 for the best efficiency, but also prove that misbehaving a little won't break the bank.
Interior Cons
As with many small crossovers the rear seats are very tight. I tend to sit hugging the steering wheel and even in my formula one racecar driving position, rear seat passengers found their knees touching the seat back.
The rear cargo area has a very high floor, especially in the Grand Touring with a BOSE audio system that takes away storage space. I think the space left is just enough to accommodate the luggage for a small family's weekend road trip. Four adults would have to pack sparingly, or simply wear lots of layers and skip the bags altogether.
Most Pleasant Surprise
I really enjoyed driving the CX-3. I happened to review Mazda's little crossover the same week that I was reviewing the all-new Miata MX-5 roadster and I was surprised at how much shared DNA the two really have.
I also think that as lovely as the bold lines of the CX-3 look on paper or on the computer screen, you really need to see it in person to appreciate what Mazda has created.
Least Pleasant Surprise
Although the CX-3 is a crossover, the back seat may not work very well for families with older children. As always, I suggest an extended test drive with everyone who will be regularly riding in the CX-3 before finalizing a purchase.
Bottom Line
Mazda has essentially built a mildly spicy hatchback that is pretending to be an SUV -- and an attractive one at that. If you are looking for a relatively inexpensive crossover that earns excellent miles per gallon, and you value driving performance over maximum utility, the 2016 Mazda CX-3 is well worth adding to the shopping list.
Buying With CarsDirect
We have partnered with trusted dealers in your area to give you a great price on the new Mazda CX-3.
This is how it works:
We connect you to the Internet Department at a Trusted Dealership.
Use the CarsDirect Target Price as a tool in your negotiation.
The dealer will help you with financing or leasing, as well as trade-in options.
Insider Information
We have information you must know before you buy the CX-3.
We want to send it to you, along with other pricing insights.
Your Email
Submit
We will not spam you, and will never sell your email. You may unsubscribe at any time.
Thank you. You are now subscribed to our Pricing Insider updates.