Mazda's beloved roadster has remained faithful to the classic affordable two-seat convertible concept since its introduction in mid-1989. The completely redesigned 2016 model takes the whole concept back to its small, light, utterly irresistible roots.
What's New for 2016
The MX-5 has been completely redesigned from bumper to bumper. Everything except the name and general description is new.
Choosing Your Mazda MX-5 Miata
All Miatas are, as always, front-engine rear-drive two-seat convertibles. The well-received folding hard top that was available on the previous generation is no longer available; it will be interesting to see if Mazda decides to bring it back later.
Mazda's clear intent throughout the design and engineering process was to make the new Miata as light and nimble as possible, essentially remaking the iconic original car while accommodating the regulatory and marketplace changes of the past 25 years. The fourth-generation Miata is three inches shorter and nearly 150 pounds lighter than its predecessor (which itself was rarely accused of being big and bloated).
Power comes from a 2-liter inline-four cranking out 155 horsepower and 148 pound-feet of torque, which is enough to make this the quickest factory Miata yet. EPA estimates are 27 city/34 highway for cars with the six-speed manual gearbox and 27/36 for Miatas that have somehow ended up with the six-speed automatic.
The independent suspension is set up to be a bit soft; Mazda's engineers specifically allow a bit of body roll to help the driver sense the car's attitude and transitions. Handling in the real sense of the word -- responsiveness, controllability, and feel -- is still exceptional.
The MX-5 Miata is available in three trim levels: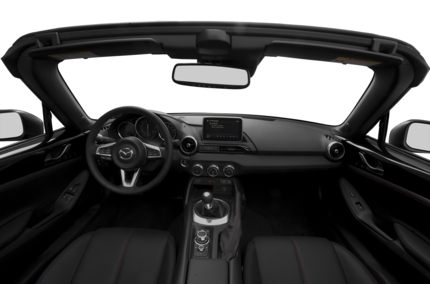 Mazda has a longtime tendency to keep option lists on the short side, and the new Miata remains faithful to this tradition as well. A $3400 package of serious speed parts including BBS wheels and Brembo brakes is available for Club buyers. A set of body-dress pieces is available for Sport and Grand Touring models, and there are several options to brighten up the minimalist interior. Keyless entry is standard on cars with automatics and available for manuals. A collection of cargo-management options and other minor individualist touches can also be installed.
CarsDirect Tip
Autocrossers and those with performance tuning on the mind will naturally gravitate towards the Club model. The Grand Touring wears its luxury and convenience features well, although extra electronics and computer intervention has never been the point of the Miata. The Sport is the purest choice -- and by definition that makes it the best Miata. Buy one and enjoy life.
Get your price on a Mazda MX-5 Miata »
Read our review on the Mazda MX-5 Miata »