Not many cars with moderate sticker prices possess as much character, and heritage, as the MINI. That's especially true of the two-door Hardtop, which revived, in modern guise, the Minis that were produced in Britain in the 1960s. Cooper Hardtops come in two- and four-door hatchback form, but it's the two-door that best identifies the MINI brand. Despite small size, MINIs offer 38 cubic feet of storage volume with the back seat folded down (but less than 9 with that seat up).
What's New for 2016
Not much has changed. MINI can now be considered a SULEV (super ultra-low emitting vehicle), due to upgrading of the three-cylinder base engine. That modification does not impact performance. In several areas, trim that was previously silver-painted is now high-gloss Piano Black, including the standard Cooper grille. Loaded and Visual Boost packages are no longer available, but base and S buyers can pick a Sport package, and the option list contains many more possibilities.
Choosing Your MINI Hardtop
MINI Hardtop models are defined by their engines: base Cooper, Cooper S, and John Cooper Works. Named for the man who sent the original MINI into motorsports, the John Cooper Works edition is the hottest performer – not only more powerful, but tuned to derive maximum response and pleasure.
All Cooper Hardtops use TwinPower turbocharged engines: three-cylinder 1.5-liter in the base Cooper, and 2-liter four-cylinders in the Cooper S and John Cooper Works models. The three-cylinder makes 134 horsepower, while the Cooper S ups that figure to 189 horsepower and 207 pound-feet of torque. Beneath the bonnet of the John Cooper Works edition sits the most powerful engine ever in a MINI production model, developing 228 horsepower and 236 pound-feet. Cooper Hardtops are available with a six-speed manual gearbox or six-speed automatic transmission. All MINIs are front-wheel drive.
Expect about 29 mpg in city driving and 40 mpg on the highway with the base engine and manual shift. The estimate drops to 24/34 mpg with a Cooper S, and 23/31 mpg with the John Cooper Works.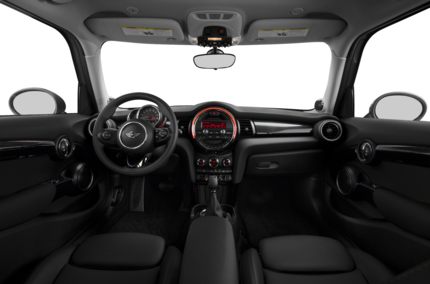 CarsDirect Tip
Except for the Fiat 500, Mini Coopers have no direct competition. They've been so popular at times that used models have sometimes sold for more than new ones. Whether to buy a base Cooper or Cooper S depends on the level of your yearning for experience, though even the three-cylinder model releases abundant energy. If a Cooper S won't quite suffice, the John Cooper Works Hardtop may be irresistible. Why not go all the way, if your pocketbook permits?
Get your price on a MINI Hardtop »
Read our review on the MINI Hardtop »