Our Take: 2016 RAM 1500
Known as the Dodge Ram prior to 2011, the RAM line of pickups is the third bestselling truck in the U.S. after the Chevrolet Silverado and Ford F-Series. The light-duty 1500 has plenty to offer buyers, including a class-exclusive diesel engine and a standard eight-speed transmission.
Pricing and Equipment
The RAM 1500 lineup of pickups features one of the lowest-priced entry-level full-size trucks in the Tradesman. With a regular cab and two-wheel drive, this pickup starts at just $25,865. It's truly built for work, coming only with the most basic of features like:
Air conditioning
Vinyl seats
17-inch steel wheels
Automatic headlights
There are plenty of other trim levels to choose, with lots more features and bigger prices. Buyers looking for a more luxurious experience can nearly double the price of the Tradesman if they opt for the $50,880 Limited.
Performance Pros
A wide range of powerful and smooth engines makes it easy to pick the perfect model or you.
Potent 5.7-liter V8 HEMI with 395 horsepower.
Slick 305-horsepower 3.6-liter V6.
3-liter EcoDiesel V6 packs 420 pound-feet of torque and a class-leading 29 mpg highway.
Tows up to 10,600 pounds.
Performance Cons
The air suspension has lots of uses, but we find its ride a little rough.
The 3.6-liter V6 engine cuts towing capacity to just 6,500 pounds.
Interior Pros
Laramie Longhorn and Limited trim levels have a luxury-car feel.
Storage cubbies are plentiful
Controls are well-placed and easy to understand.
Interior Cons
Finding fault in the cabin of the RAM 1500 is difficult. If pressed, we might say the interior of the base Tradesman is a bit spartan, but that's to be expected in a work truck.
The Most Pleasant Surprise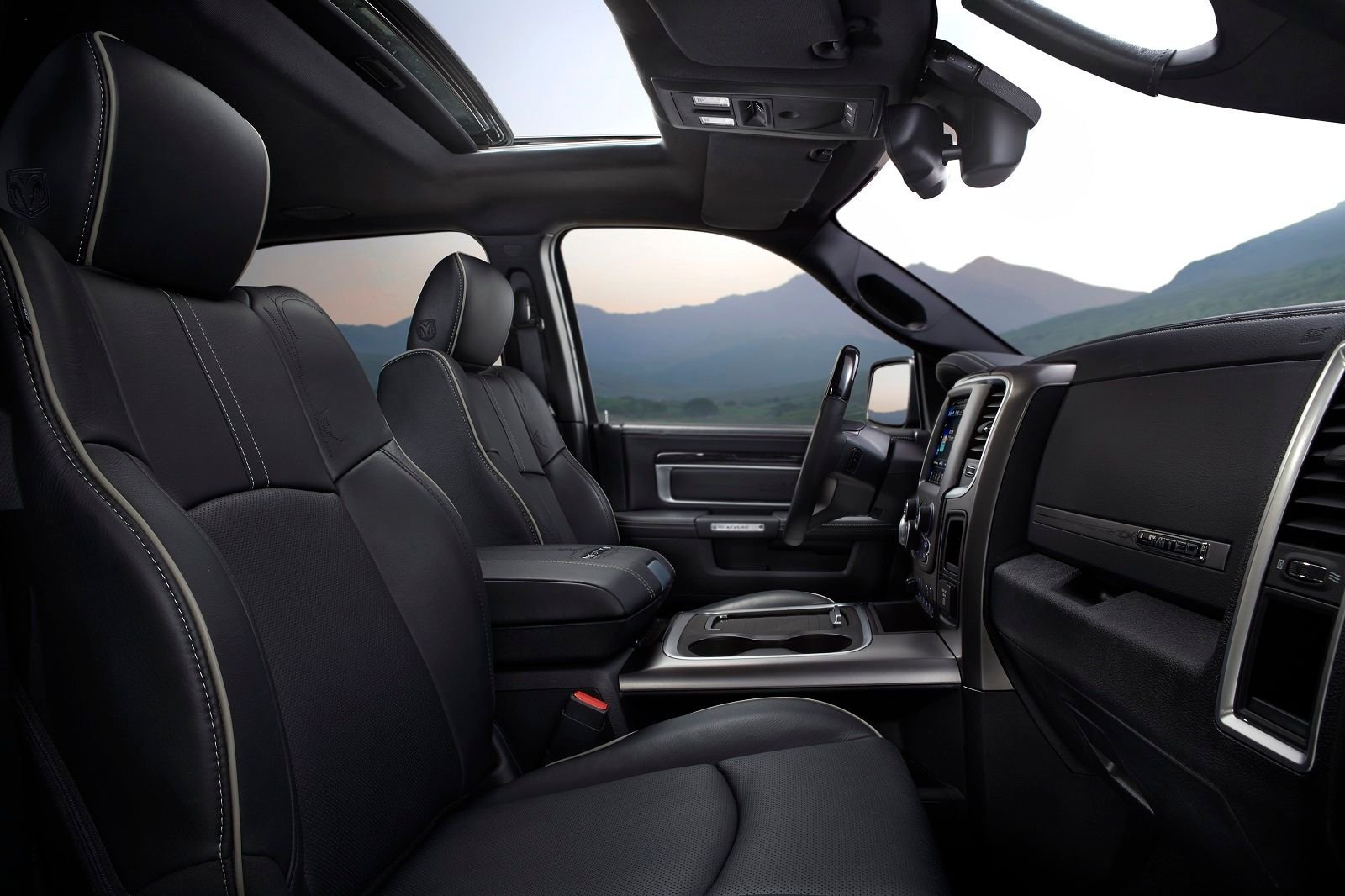 The abilities of all three engines is a nice surprise. For so many years in the pickup truck segment, a base V6 was to be avoided. But the RAM 1500's Pentastar V6 actually does a great job of moving the big truck around. The 5.7-liter HEMI lets its 395 horsepower do the talking, and the EcoDiesel's massive torque and high fuel economy make it an almost ideal balance of desirable attributes.
The Least Pleasant Surprise
The EcoDiesel V6 is only available in very specific configurations, limiting your options if you want this thrifty torque monster. We don't see a logical reason behind its limited availability.
The Bottom Line
The RAM brand is steadily catching up to Chevy and Ford in terms of sales, and for good reason. The brand continues to build high-quality pickups with plenty of capabilities. What's more, being the only model in its class with a diesel engine is a huge advantage.
Buying With CarsDirect
We have partnered with trusted dealers in your area to give you a great price on the new RAM 1500.
This is how it works:
We connect you to the Internet Department at a Trusted Dealership.
Use the CarsDirect Target Price as a tool in your negotiation.
The dealer will help you with financing or leasing, as well as trade-in options.
Insider Information
We have information you must know before you buy the 1500.
We want to send it to you, along with other pricing insights.
Your Email
Submit
We will not spam you, and will never sell your email. You may unsubscribe at any time.
Thank you. You are now subscribed to our Pricing Insider updates.