Our Take: 2017 Audi A6
Lithe, athletic, and elegant, the midsize Audi A6 is simply a wonderful choice in the highly competitive midsize luxury sedan segment. Standard front-wheel drive isn't the demerit some might perceive, while the available quattro all-wheel drive system supplies the driving confidence that Audi enthusiasts love.
Pricing and Equipment
Front-wheel drive is standard on two of the four Audi A6 trims. All-wheel drive is available on those two and standard everywhere else in the lineup.
Four trim levels are available, including the new-for-2017 3.0T Competition model with superior driving dynamics.
A pair of turbocharged gasoline engines is offered. The previously available turbo-diesel was dropped at the beginning of the 2016 model year.
The standard 2-liter turbocharged four-cylinder engine makes horsepower and 273 pound-feet of torque. Front-drive models are paired with a seven-speed dual-clutch transmission. All-wheel drive models come with an eight-speed automatic.
The available 3.liter turbocharged V6 engine creates 333 horsepower (340 in the Competition 3.0T) and 325 pound-feet of torque. Found in all-wheel drive models only, this engine is also paired with an eight-speed automatic transmission.
Pricing for the A6's trims follows:
The standard A6 Premium is priced at $47,500.

The Premium Plus trim costs $51,600, or $58,600 with the V6 engine and all-wheel drive.

Audi prices the Prestige trim at $61,600 and charges $67,600 for the Competition 3.0T model.
Several options packages are available depending on the trim. For the base model, customers can choose a Cold Weather package ($500) composed of heated rear seats and a heated three-spoke steering wheel with paddle shifters. Also available is an MMI Navigation Plus package ($2,600), a Sport package ($1,050), and various wheel, sunshade, and rear side airbag packages.
Package prices may vary according to trim and are subject to change. Vehicle prices do not reflect a $950 destination charge.
Performance Pros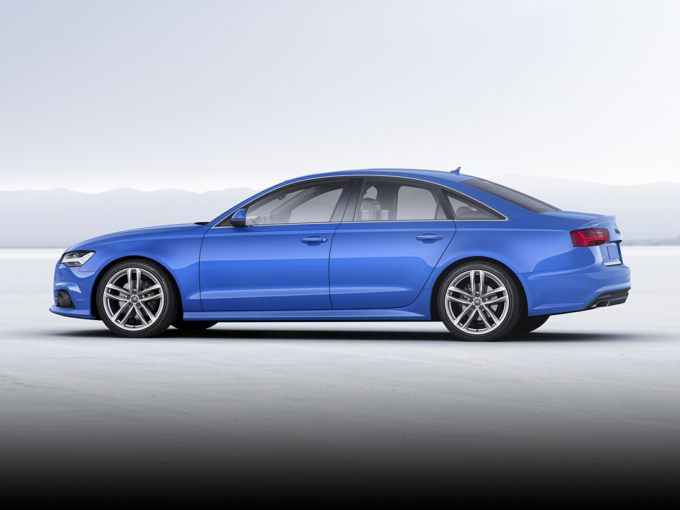 The standard Premium front-wheel drive model is surprisingly capable with its turbocharged four-cylinder engine. The dual-clutch transmission is better suited to the A6 than the earlier continuously variable transmission, and helps the engine deliver an impressive 34 mpg on the highway.

The extra weight of the available quattro system is more than offset by the superior driving dynamics it affords. The A6 with quattro feels confident, poised , and well-controlled at all times.

This year's safety ratings aren't in yet, but we fully expect the A6 to continue as an IIHS Top Safety Pick+. When it comes to safety, the A6 matches or outperforms most of its competitors.
Performance Cons
Without the turbodiesel in the lineup, the A6 loses its efficiency crown in this class. However, the base engine is efficient enough to satisfy most eco-conscious buyers.
Interior Pros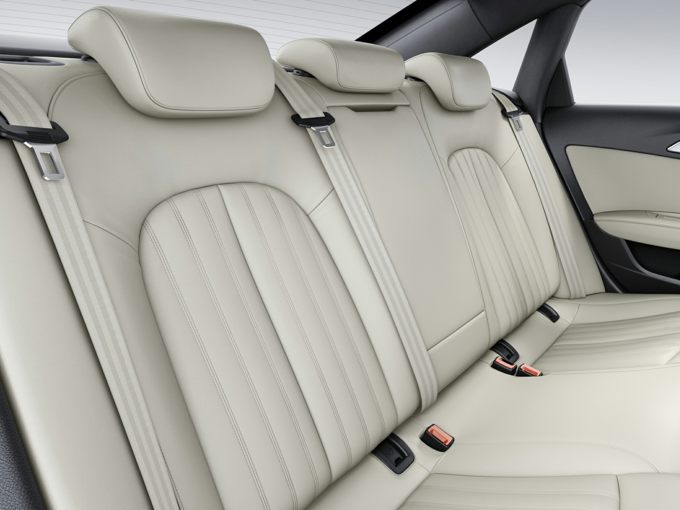 If you're going to rate the interior of any midsize luxury sedan, use the A6 as your benchmark. Not only are the materials of high quality, but they're also meticulously cut and assembled.

There is plenty of room in the A6. Five adults can sit in comfort, although rear legroom is tight if a tall driver is present.
Interior Cons
The navigation system was carefully considered and offers an attractive layout. At the same time, it can be graphically intense, possibly to the point of distraction.

Trunk volume measures 14.1 cubic feet and that's less than what most competitors offer. Audi makes up for it by supplying a split-folding rear seat.
The Most Pleasant Surprise
Audi's handsome S-Line trim is standard on the A6. It costs extra on most other models.
The Least Pleasant Surprise
The A6 Competition is a fetching model with its red brake calipers and performance-tuned engine. Add in the desirable Driver Assistance package and excellent Bang & Olufsen audio system, and your price approaches $78,000. That's a lot to pay for this sedan.
The Bottom Line
With the turbodiesel no longer available, the Audi A6 loses one of its star attractions. Fortunately, the gasoline engines are highly capable and reasonably efficient. The A6 may be the most handsome model in this segment too. When it comes to purchasing one, we'd narrow our search to the Premium Plus with the V6 engine. Add in the Sport package, and you'll pay about $60,000 to obtain one.
Buying With CarsDirect
We have partnered with trusted dealers in your area to give you a great price on the new Audi A6.
This is how it works:
We connect you to the Internet Department at a Trusted Dealership.
Use the CarsDirect Target Price as a tool in your negotiation.
The dealer will help you with financing or leasing, as well as trade-in options.
Insider Information
We have information you must know before you buy the A6.
We want to send it to you, along with other pricing insights.
Your Email
Submit
We will not spam you, and will never sell your email. You may unsubscribe at any time.
Thank you. You are now subscribed to our Pricing Insider updates.