The BMW i8 arrived to massive fanfare in 2014 and continues into the 2017 model year with the same enthusiasm behind it. For 2017, the i8 will gain a new special edition. There is also a new convertible model in the works, but BMW has not announced whether it'll be available in the new year or not.
We expect the outward appearance of the i8 to carry over completely unchanged in the new year, save for the possible introduction of the convertible model. If this proves to be true, we also expect the current model's standard features, which include 20-inch wheels, the Shadowline exterior trim, LED taillights, power seats, 11-speaker sound system, navigation, and more, to continue without change too.
The only change that BMW has announced for the 2017 i8 is the new Protonic Red Edition, which will feature a Protonic Red body with Frozen Gray Metallic accents, special wheels coated in gloss black with Orbit Gray Metallic matte lacquering, NESO seats with red highlights and gray seat belts, floor mats with black leather and red stitching, and "Protonic Red Edition" engraving on the doorsills.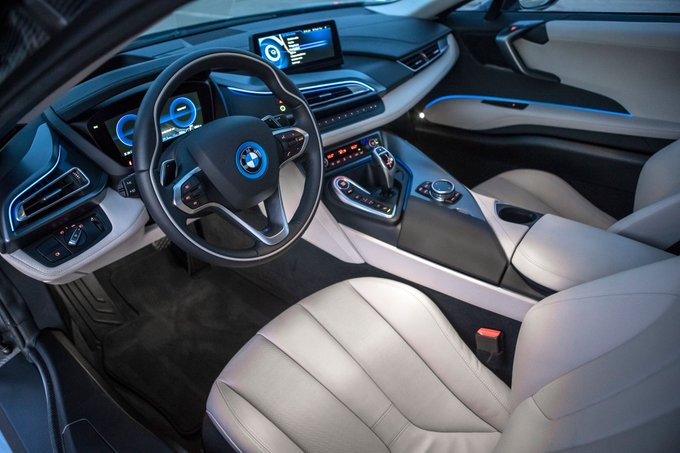 The i8's heart should remain unchanged too, leaving it with a 1.5-liter three-cylinder gasoline engine and a pair of electric motors. Combined, these produce a maximum of 357 horsepower and sprint this rig to 60 mph in just 4.2 seconds. What makes the i8 truly outstanding is its 76 mpg-e rating from the EPA, thanks to its 15 miles of electric-only range and 28 mpg combined rating when the gasoline engine kicks in.
Being such a limited model, there have been no safety tests performed on the i8. Standard safety goodies on the 2016 model include BMW Assist eCall, BMW Remote Services, Active Driving Assist with Surround View, speed limit info, frontal-collision warning, pedestrian protection, and city collision mitigation, making us believe it would perform well in tests. We expect these features to carry into the new model year unchanged.
Expect a full review closer to launch.